I became aware of this car's existance a year before I owned it, when the following message was posted on the Panther Pink and Moulin Rouge Mopars group on facebook.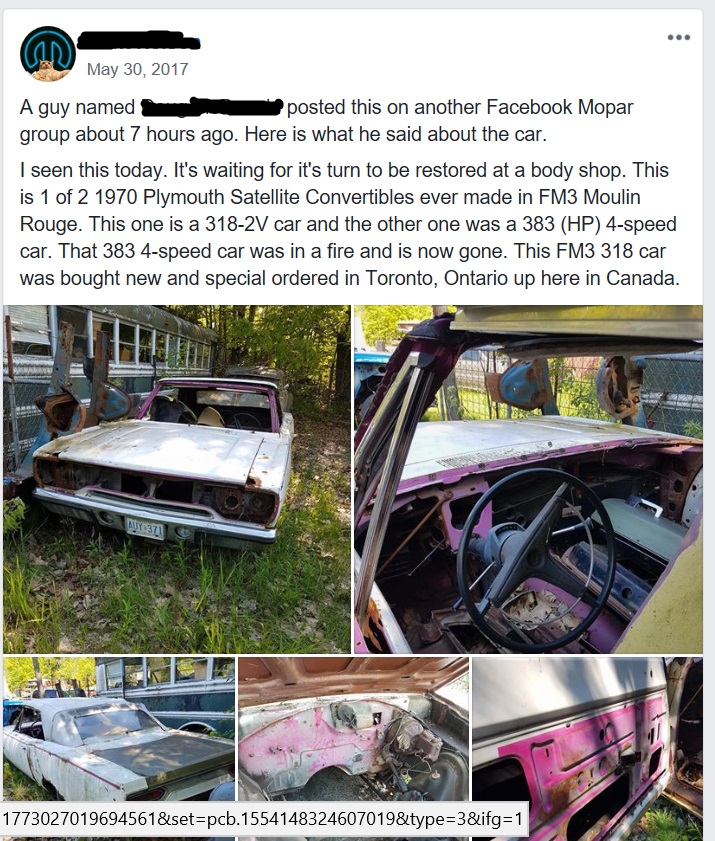 I hadn't planned on doing another FM3 (Panther Pink/ Moulin Rouge) Mopar and this one was not listed for sale that I could find and it was too far for me to just go take a look at it. In fact it was in Ontario and I live in Vermont.

Without thinking any more about it, a year went by and to my surprise I got an email offering to sell it to me ! The owner had died and his sons were selling off a bunch of his cars as a package deal. The sender of the email, Rick Monture, was trying to buy the cars and didn't want the Satellite. He had found an old Want Ad that I had posted on PantherPink.com a decade prior and he contacted me in hopes that I would buy the car off him, which would help reimburse him on the purchase of the other cars. Since the car was actually in northern Ontario and he was south of Toronto, all he could send me for pictures was the original ones posted on facebook and some additional pictures showing the broadcast sheet and the fender tag.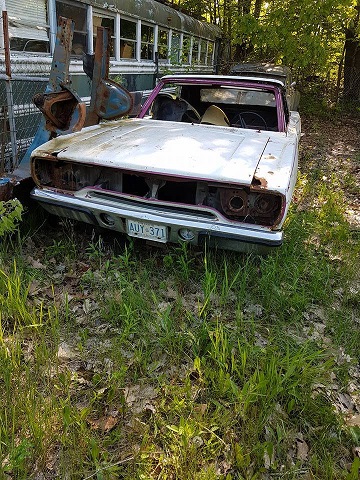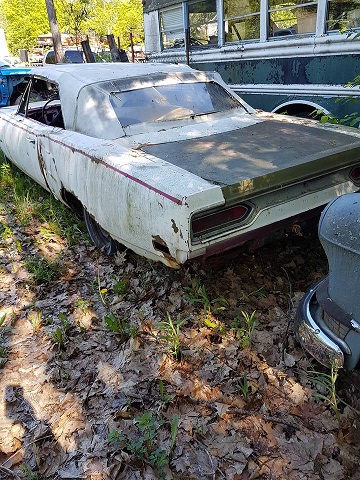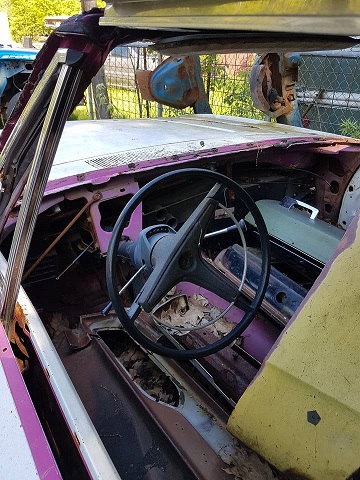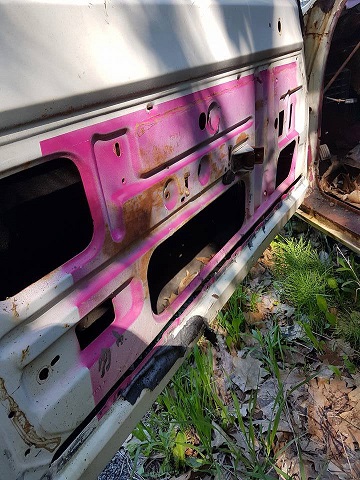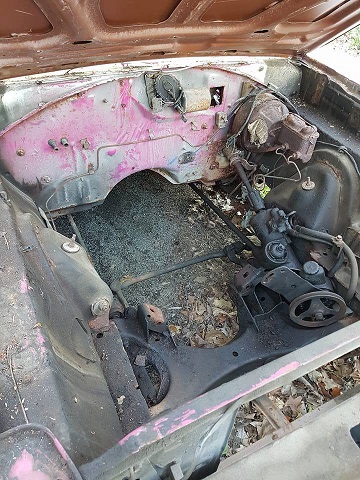 Note: The original engine and transmission were pulled, but they were still with the car.


I was given a little bit of the car's anecdotal history, which was conveyed by Nigel Mills, the Galen Govier of Canada, who pulled the car out of a junkyard in the 1980's. It was purchased new by (or for) a judge's wife. At some point it found its way to Standard Auto Wreckers junkyard in the east end of Toronto. That's where Nigel recognized the rarity of the color and purchased it. Nigel eventually sold it to a buddy of his, Owen Wheatley, who owned it for about 10 years and did nothing with it. It changed hands several times after that and ended up in Jamie's Junkyard in eastern Ontario. The rest of its history I was eventually able to piece together from the paperwork that came with it.

I did some searches on the mopar webforums and found an old posting by Nigel about the car, which was deleted before I got the car. At the time Nigel found it, the frame rails were pretty bad and needing replacing. He imagined that they would be far worse after 20+ years since he saw the car. Boy was he ever right about that one.

I did a little more research and learned that only 701 Satellite Convertibles were ever built. Out of the 701 only 109 of these cars were exported to Canada. There were only 2 US built cars painted FM3, Moulin Rouge. The car was also built as a Canadian Dealer Demo car. So pretty much this was most likely a 1 of 1 car.

So this car was very rare, very rusty and I had the exclusive purchase rights to it. So..... I was in !

All I had to do was drive to Ohsweken, Ontario (south west of Toronto) and import it into the US. 910 miles round trip.


---
The picture on the left was taken by Rick when he bought it home 7/6/2018. The one on the right was taken a day after I got it home, 8/5/2018. Seems like it spent a lot of its life on different trailers.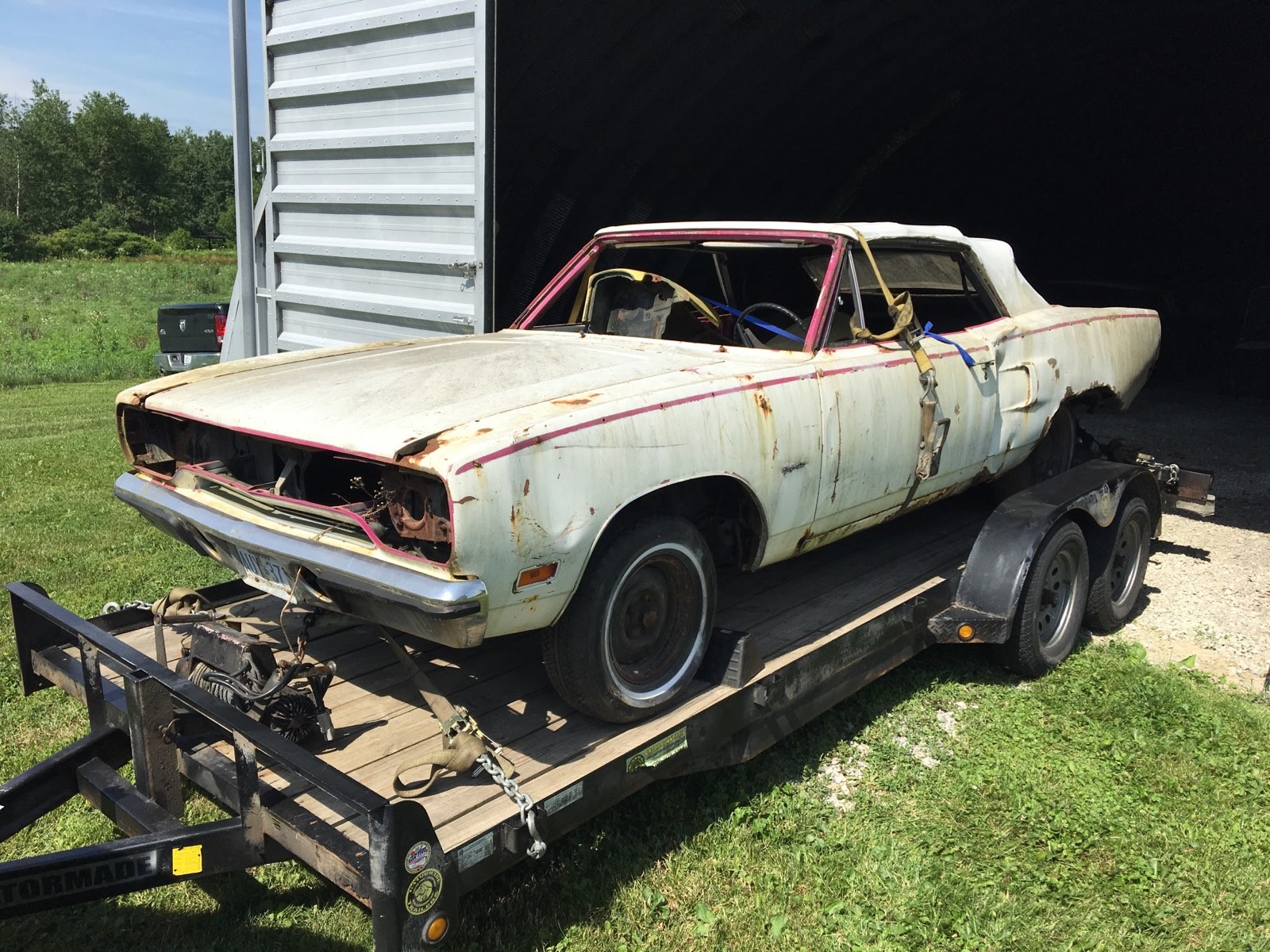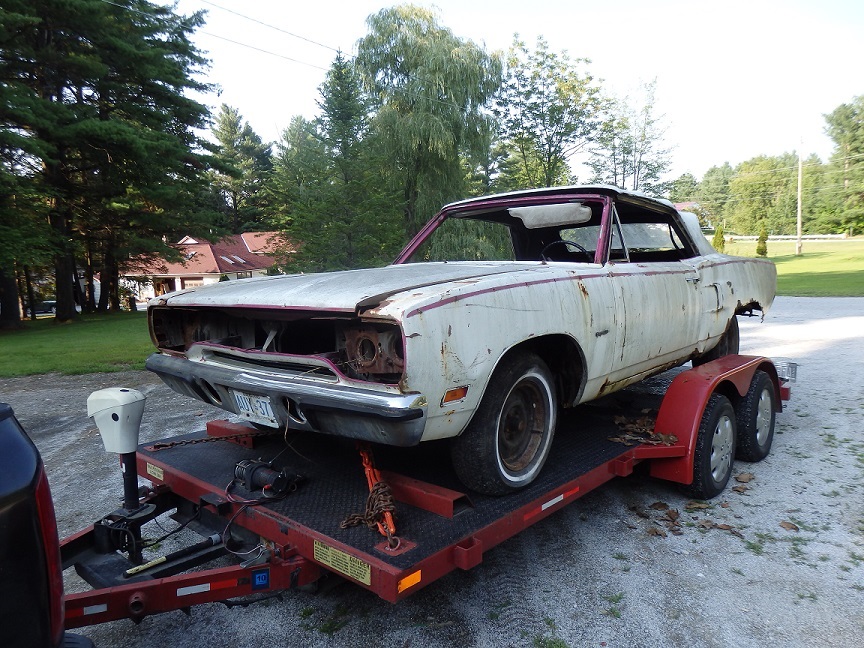 ---
One of the first things I checked on the car was originality. What I am describing here is applicable to any Mopar you might want to purchase. The series of pictures below shows that the car is original. The dash VIN Tag (very bad idea by Chrysler to rivet it to a bolt on dash by the way) and the door tag show the same VIN number. The engine block and the transmission are both stamped with a partial VIN which agreed with the VIN tag. The back side of the radiator support and the lip in the trunk opening (secret VIN) are also stamped with the same partial VIN which also agreed with the VIN tag. Assuming that these items have not been "relocated" from another vehicle or reproduced.... the vehicle is considered to be an original numbers matching car.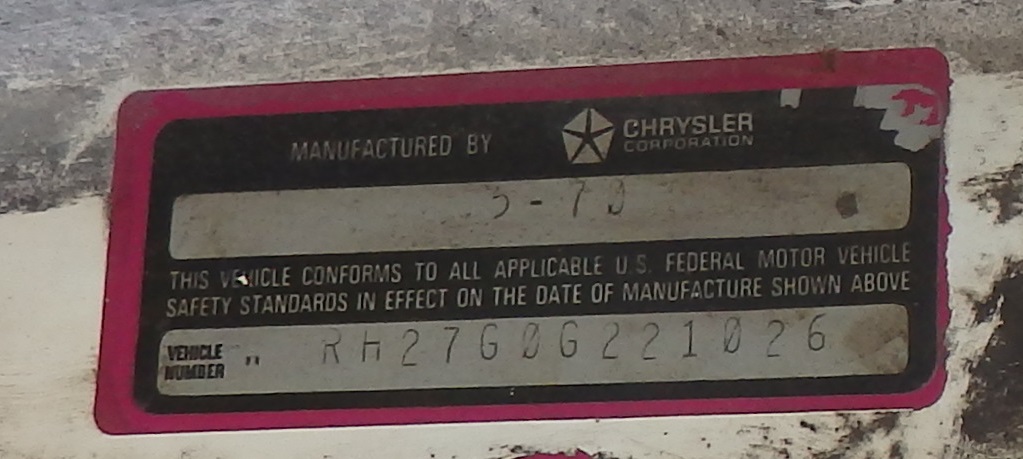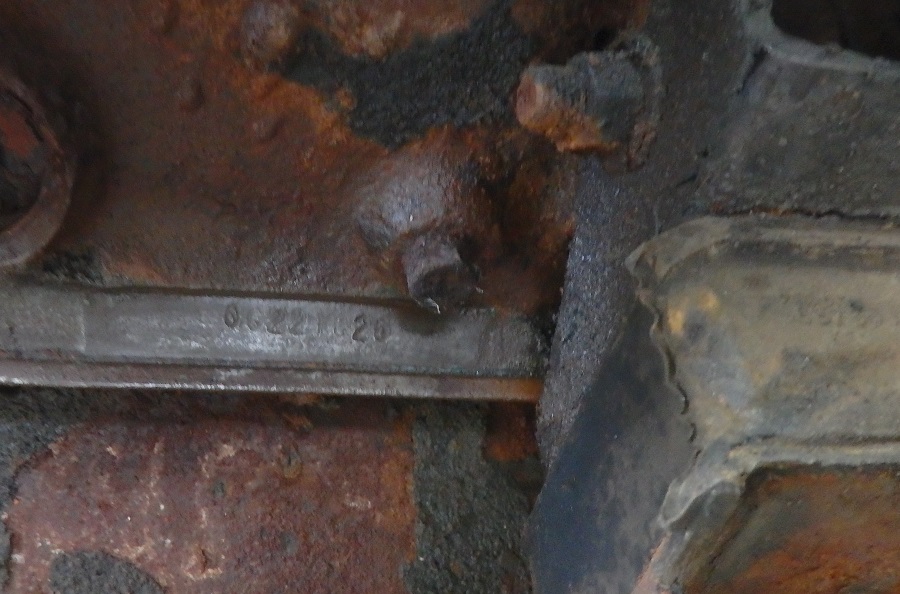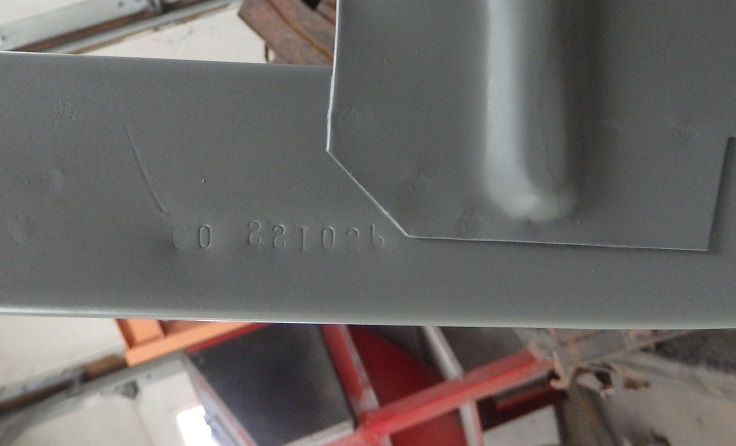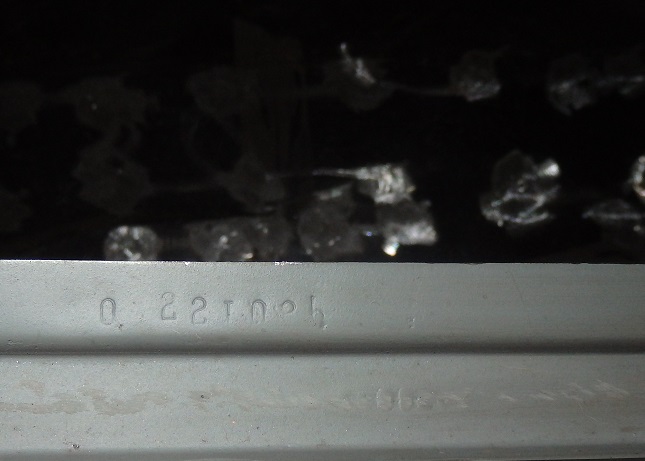 ---
The Fender Tag (or Build Tag if you prefer) is screwed to the left inner fender, if not lost or stolen, is also a valuable piece of the car. I would not have bought the car if it did not have the tag. When properly decoded, it lists information about how the car was built and what options it came with. These tags are often reproduced, so you have to be careful when looking at a high dollar car.


The following is a break down of the fender tag codes:
221026 = Sequence number (221,026th 1970 car produced at the plant, last 6 digits in the vin)
G0G = 318-2bbl Engine, 1970 Model Year, St Louis assembly plant, (5th-7th digits of the vin)
RH27 = Plymouth Satellite, Convertible (1st-4th digits of the vin)
D31 = 904 3spd Automatic Transmission
E44 = 318-2bbl Engine
C46940 = Order Number, Canadian Order
501 = Scheduled Build Date of May 1, 1970
EW1 = White Upper Door Frame Color
H2XW = High grade vinyl bech seat interior - with Black dash & carpet
FM3 = Moulin Rouge body color
J25 = 3-speed Wipers
G33 = LH Remote Mirror
B51 = Power Disc Brakes
A04 = Basic Radio Group
A01 = Light Package (courtesy)
V3W = White Convertible Top
Y07 = Built for Canada
R11 = AM Radio (2 watts)
M33 = Door and Body Side Moldings
M31 = Beltline Moldings
M21 = Roof Drip Rail Moldings
L31 = Fender Mounted Turn Signals
END = End Of Codes Assembly
With the exception of the mirror and Fender Mounted Turn Signals, all of the items listed were still with the car.


---
Another item that adds value to the car and tells the complete story as to what components were used to assemble the car, is the factory broadcast sheet (build sheet). Some cars actually came with several of them. All that I got with mine was a laminated color photocopy of the one from behind the rear seat. That means someone is holding on to my originals.

As major components/subassemblies of a car (e.g. dash, seats, engine, etc..) were built, a broadcast sheet was printed and was used to instruct the factory worker as what to assemble. Often the broadcast sheet accompanied the component to the final assembly line so that the correct assembly would be installed on the intended car. All of the printed broadcast sheets for a given car would be 100% identical except for the last 4 digits on line 5, which represent the time of day that it was printed. Each broadcast sheet would receive different markings on them during the assembly process. What is interesting about this one was that it had "CANADIAN JOB" typed in the comment section.

To decode your build sheet you either need to pay someone or you can get your hands on a restoration manual from the International Chrysler Collector Authority website. It will cost you a lot, but it is well worth the purchase when restoring a Mopar of value. I am not exadurating in the slightest. I wish that all resto manuals were like this. Hint, hint Jeff Speegle.....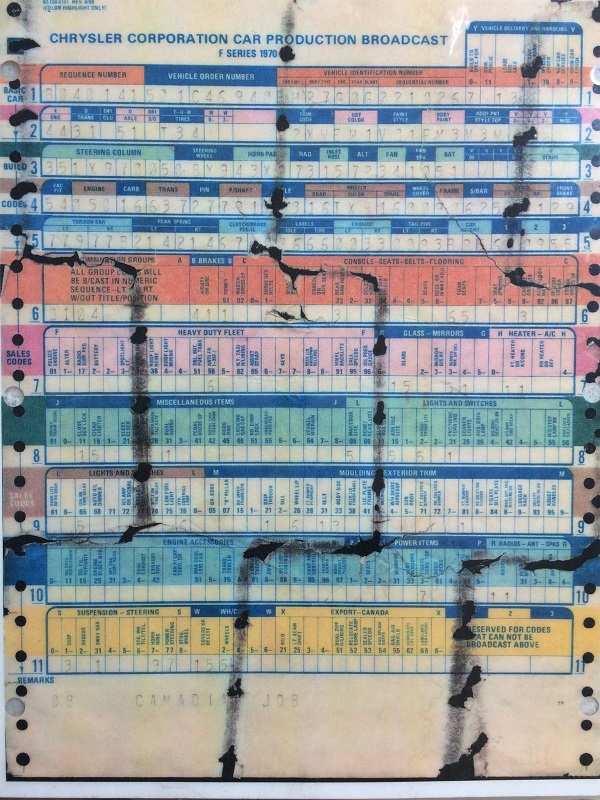 ---
I thought that this was worth mentioning for your authentication purposes. The picture below is of the stamping on the left front side of the engine. Some may mistaken the stamping for the VIN, but it really pertians to the engine build information.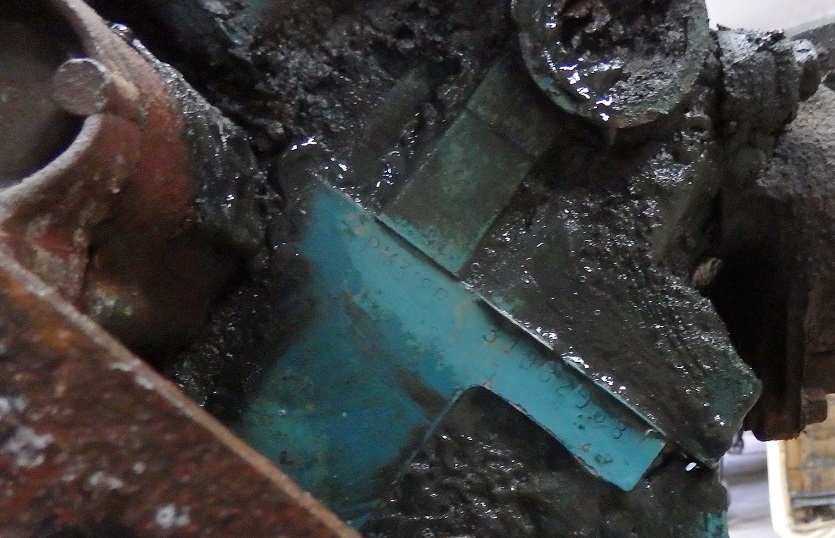 The stamping reads PM318R 31882968. This translates as follows:
PM = Mound Road assembly plant
318 = engine displacement
R = Regular Fuel
3188 = April 20, 1970 assembly date using a 10,000 day calender. This was 11 days before the scheduled build date specified on the fender tag.
2968 = engine sequence number
---
ACTUAL KNOWN HISTORY: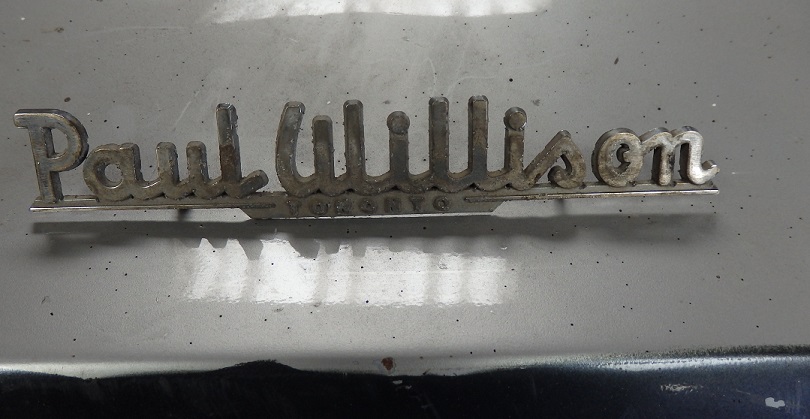 The car was ordered as a Dealer Demo car by Paul Willison Chrysler of Toronto, Canada.
It was built in St Louis, Missouri about May 1,1970.
It was first purchased by John Mitroff of Toronto, Ontario.
Last license plates were issued to John Mitroff on Feb 14, 1973.
It eventually was sent to Standard Auto Wreckers, east of Torono with rotten frame rails.
It was pulled out of the salvage yard by Nigel Mills of Beaverton, Ontario, circa 1987.
It was registered as unplated by Owen George Wheatley of Markham, Ontario on Feb 23,1988.
It was registered as unplated by Jake Jacob Terveld of Scarborough, Ontario on Jun 29,1995.
It was registered as unplated by Rick Monture of Ohsweken, Ontario on July 31, 2018.
It was purchased by me of Highgate, Vermont on Aug 4,2018.
email me if you know about any of my car's early history.


---
BACKGROUND:

Moulin Rouge/Panther Pink (color code FM3) is one of 7 High-Impact Paint Colors (HIP Colors) that were available from Chrysler for the 1970 model year. Moulin Rouge/Panther Pink along with Sassy Grass/Green-Go were introduced in January 1970, usually refered to as "Spring Time Colors".

The first car thought to be produced in this color was a 1970 Challenger R/T Convertible, which was produced for the 1970 Chicago Auto Show (Feb 21 - March 1, 1970). The show car was loaded with options which included a 440 Six-Pack engine, 4-spd manual trans and a fluorescent magenta longitudal stripe. The car was produced on Feb 11, 1970 and did not have a FM3 paint code, but rather a 999 special order paint code. Here it is back in 1970 and here is its fender tag.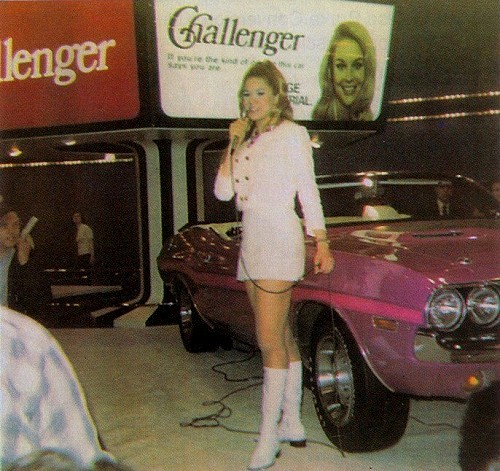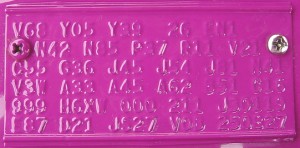 Pictures courtesy of www.pantherpink.com

When the new colors were introduced, this was the only brochure that dealers received: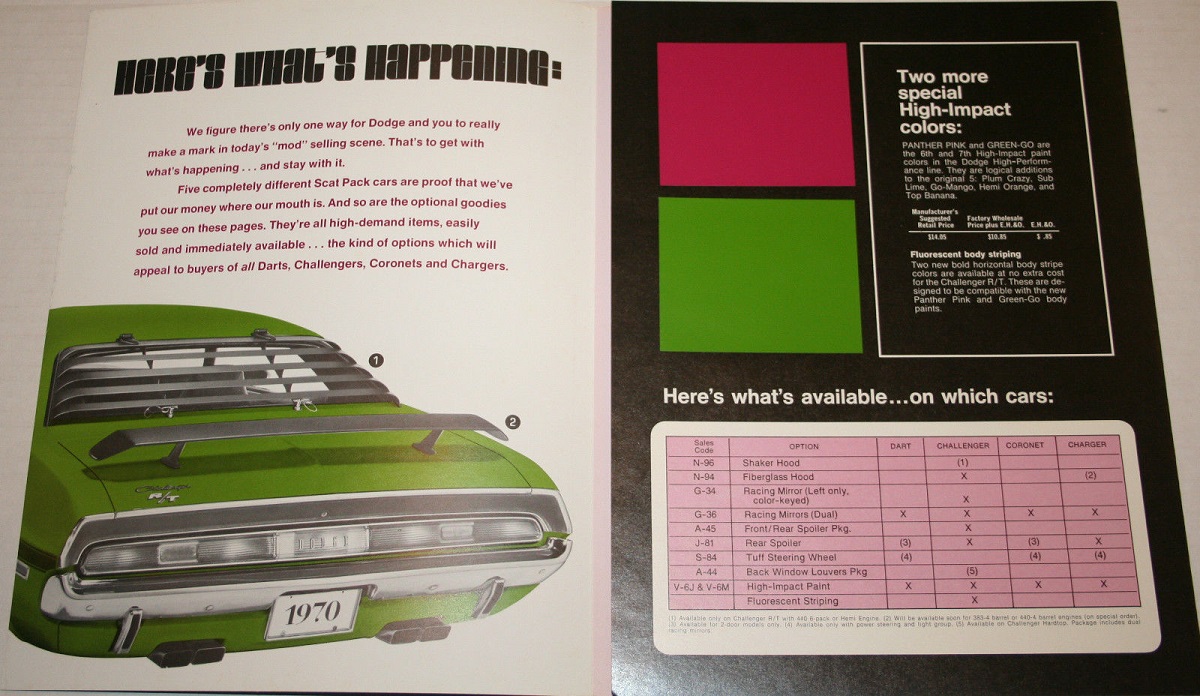 This is the only advertisment that appeared in magazines showing a car in Moulin Rouge/Panther Pink. Sassy Grass/Green-Go cars did not appear in adverts.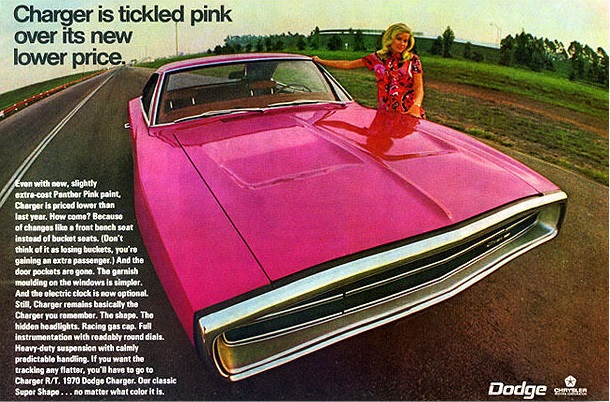 ---
So, how many cars were produced in Moulin Rouge/Panther Pink? Well, there is no clear answer to that. Infact there is no clear answer to how many cars were produced by Chrysler with any particular option or combination of options. That is because Chrysler only kept track of single options by percentage of total production. These percentages were reported in what is called the SG-30 Accessories and Options Report. Only a few lucky individuals have copies of one. I am not that lucky. So when you hear some guy say, their car is 1 of 28 with a 440 or whatever. That's most likely BS. They just used Galen Govier's White Book, that reports approximate totals that he me most likely extrapolated from the percentages on an SG-30 report.

Here are the illedged actual percentages of High-Impact Colors produced for the 1970 model year (for the US only), from a magazine article by Galen Govier. You can see that N/A is listed for Satellites in Panther Pink (aka Moulin Rouge). This was probably based on any earlier SG-30 report as there are known Satellites in FM3.





So how can I say that there were only 2 1970 Satellite Convertibles built in FM3? Well, the best I could do was ask someone with an SG-30 report printed in August of 1970, what the production percentages were for FM3 Satellites. Apparently people with copies of the report are not allowed to distribute pictures of the report. So this is all I could get:


0.0% Satellite 6cyl 2-door hardtop (932)
0.1% Satellite 8cyl 2-door hardtop (24,808)
0.0% Satellite 6cyl 2-door convertible (67)
0.2% or 0.3% (smudged) Satellite 8cyl 2-door convertible (525)
0.0% Satellite 6cyl 4-door sedan (2,334)
0.0% Satellite 8cyl 4-door sedan (26,344)
0.3% Satellite 6cyl & 8cyl 2-door convertible (592)
With a total US production of 592 convertibles, 0.3% is roughly 1.5 to 2.0 cars. So it had to be 2 since 1 car would have been reported as 0.2% and 3 cars would have been reported as 0.5%.

There were only 109 Canadian convertibles built and appeas there may not be an SG-30 report for Canada, so one can only guess to how many were built for Canada in FM3. Could be 1. I would like to think so. If you have proof otherwise, I would love to see pictures of another one. I don't mind if there are more.


If there truly were only 2 made for the US, then here they are. One was converted to a Suprebird Convertible, and the other one was repainted in blue many years ago.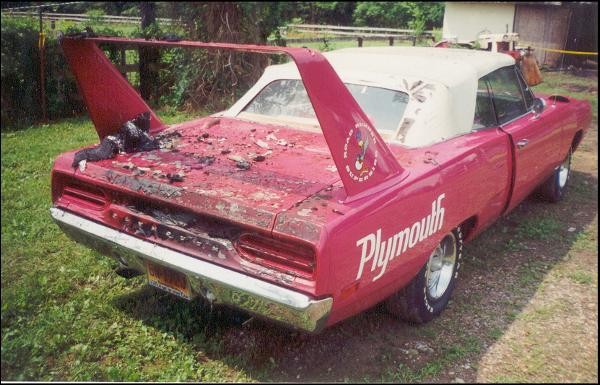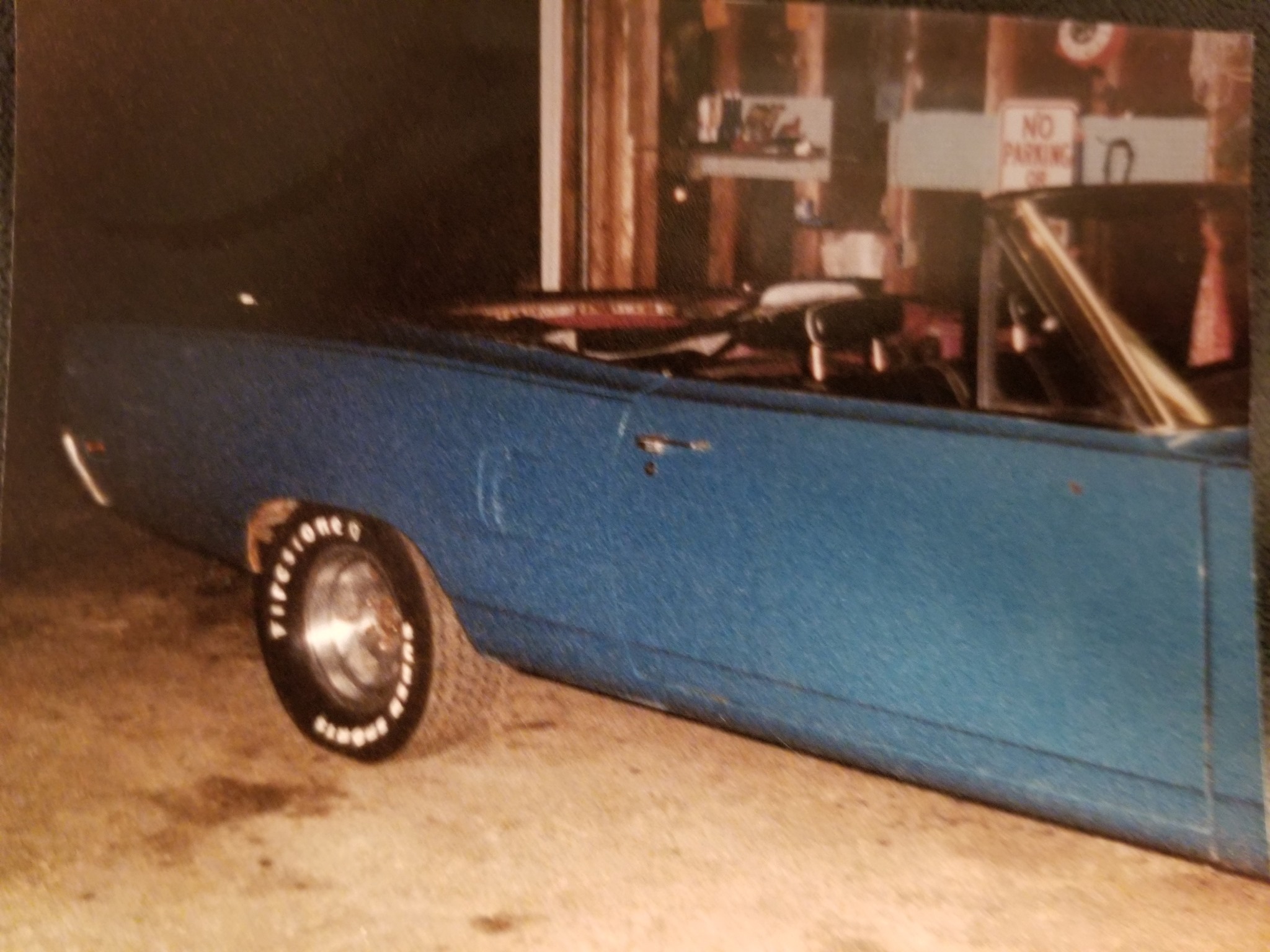 Here is my car's twin in a hardtop version. The owner was nice enough to send me a few pictures to use as a referenece for my restoration.