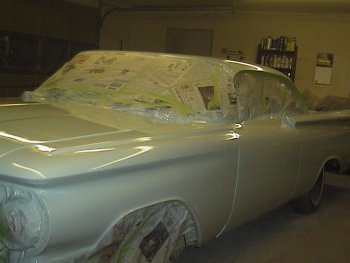 I painted the car on December 6,2003. It took over 3 quarts of color to cover the whole car. I used a basecoat/clearcoat system. The car was so big that I couldn't clear coat the entire car in one day. What I had to do was to cover the nose and the roof with plastic and clear coat the doors and the back-end of the car on one day and then cover the back-end and clear-coat the front and roof the following day. Here it is on the third day. This car is so big that I can't take a picture of the whole thing while it is in the garage.
---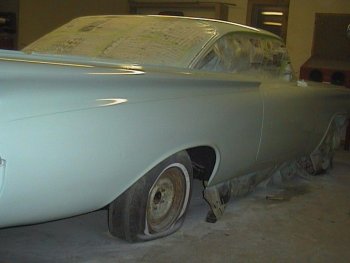 Here is a view of the right side. This car was very difficult to paint because of its size. I had to stand on a stack of milkcrates and stretch very far across the roof with the air hose over my shoulder just to reach the center of the roof. I had to balance on one foot and barely could reach the center. I had the same problem with the center of the trunk lid. The good thing about clear coating the car in halves was that I didn't have to worry about bumping into the clear-coated doors while doing the roof.
---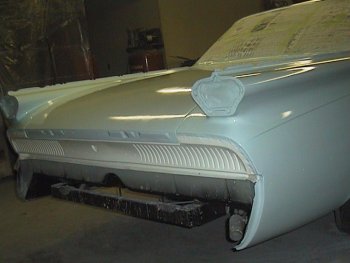 Here is a view of the rear of the car. Notice that the tail panel is painted white ? This is how the factory treated the rear on Super 88's. If the car was a 98 it would have been painted the main body color and would have received a wide aluminum panel to cover up the area that is pictured in white.
---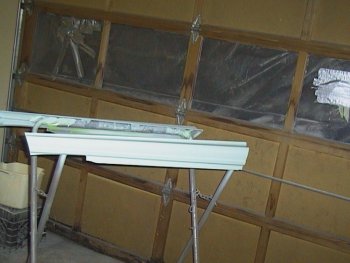 Here are the caps for the doors. I painted them off from the car so that it would be easier to buff the doors. The factory would have painted these panels of the doors as well.
---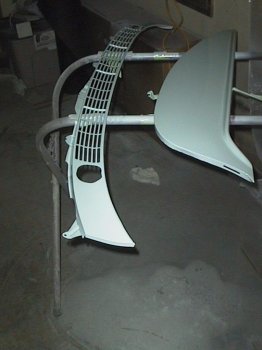 The upper filler panel was also painted off the car. In this picture you can see one of the rear fender skirts. I was lucky enough to get a set of NOS Foxcraft fender skirts for the car. Fender skirts were never installed by the factory. They are aftermarket items. I was lucky enough to get them in time to paint them with the car so that the color matched.