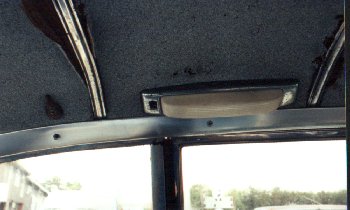 Here's a shot of the headliner. The headliner material is a painted foam material, which is glued to a cardboard backer. It is badly deteriorated. I have yet to find a manufacturer of this material.
---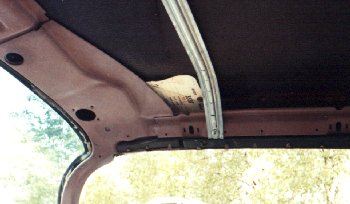 When I removed the headliner I was suprised to find this body welding checklist. View of side 1 and side 2 (Use the "Back" button in your browser to return).
---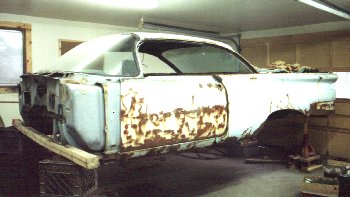 Here is a view of the shell after it was removed and fully dismantled. It would have been nice to have a car rotisserie at this point. You can see the extensive rust damage to the rear quarter.
---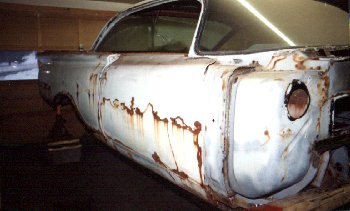 Here's the other side. You can see that the thin coat of cheap spray primer didn't protect much for long.
---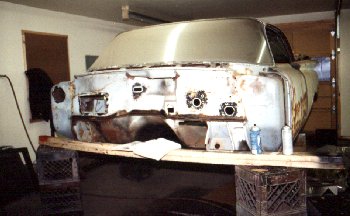 This firewall pictures shows the areas that the factory had undercoated.
---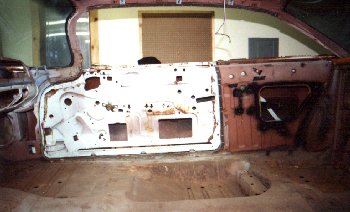 This interior picture of the shell shows that the door was fully painted the exterior color while the interior was left in its primered state.
---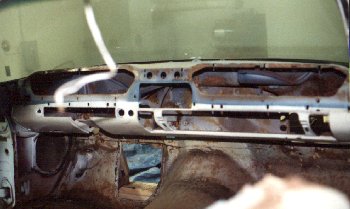 Here's the dismantled dash area. The top color was a special blue paint that was made to resemble vinyl. While the bottom half was painted white.