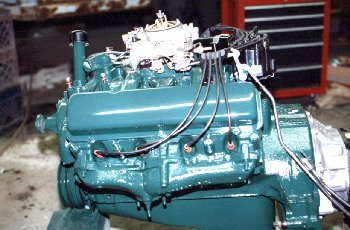 Here's a shot of the engine after painting and re-assembly. Since the motor ran beautifully without smoking and had only 39,000 miles on it all it needed was a good cleaning. I pulled off every piece that wasn't engine colored and sandblasted the motor. I did take precautions in order to prevent anything from getting inside. The engine is actually painted 1958 Oldsmobile green. At the time I was unable to located the original color in an engine paint. I got this paint from Bill Hirsh Enterprises.
---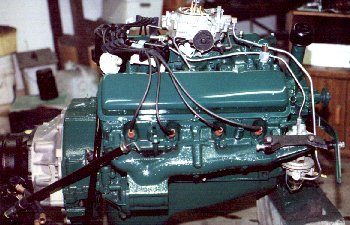 All of the other parts were cleaned, painted when required and then re-installed. Everything except the points and sparkplugs are the original factory parts. You may notice a little blue paint daub on the back of the block behind the distributor.
---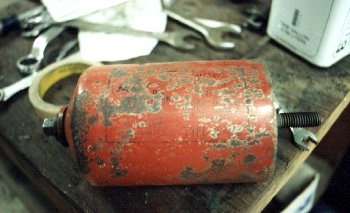 This is the oil filter canister. You can faintly see the original writing on it. Before there were the screw on oil filters, there were these canisters that you would unbolt and replace the filter catridge. I bet they were a lot easier to remove than the modern day filters.
---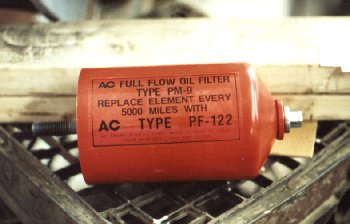 It turns out the Chevy Orange engine paint is the correct color for the canister. This reproduction decal is not quite correct for this car, but it does look close enough.
---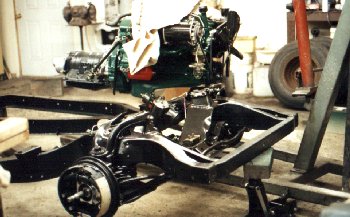 Here's the engine being installed on the chasiss. Due to the space limitation, I actually had to raise the engine and slide the chassis underneath it.
---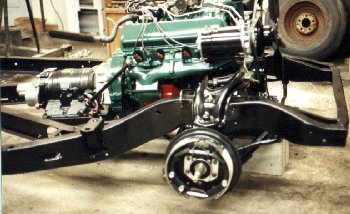 Here it is fully installed and connected.
---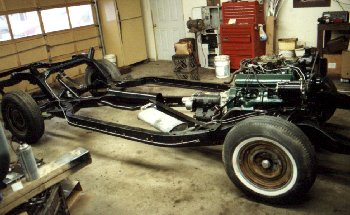 Here is the completely restored rolling chassis (except for the wheels). Its like being transported back to 1959 Framingham, Massachusettes.