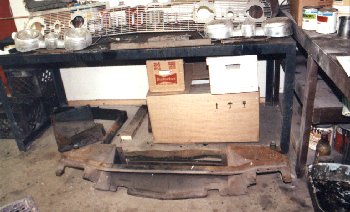 Here is the pieces that make up the radiator support and grill assembly.
---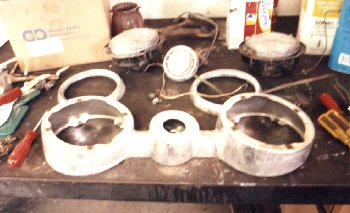 With the headlight assemblies completely dismantled it was just a matter of polishing the aluminum parts and repainting the headlight buckets. All other parts were cleaned and re-installed. Both highbeam headlights were the orginal factory T-3 headlights.
---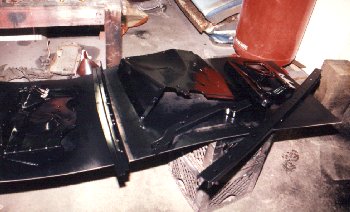 Here are the radiator support pieces after painting. I am missing the upper filler panel (baffle) that goes above the battery. This pieces was discarded on many 1959 Oldsmobiles. One day I hope to located a used one.
---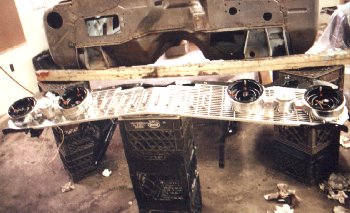 Here is the grill assembly as it was going back together.
---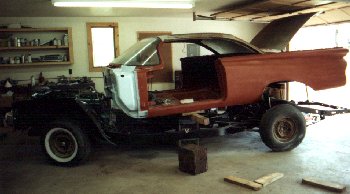 Putting the body back on the frame was a very slow task. I had to raise the body very high in the air to roll the chassis underneath. The body was lowered down in steps. This was done by placing doubled-up two by fours across the front and across the rear. The body was raised and set on milk crates. Once the chassis was underneath and aligned a pair of floor jacks were used to lower the body in single milk crate intervals. Even though this technique works and only requires only two people it should be noted that the body is very unstable when using milk crates.
---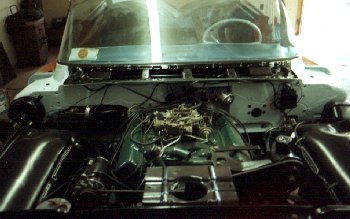 With the body bolted in place all of wiring harnesses and the firewall components were installed.
---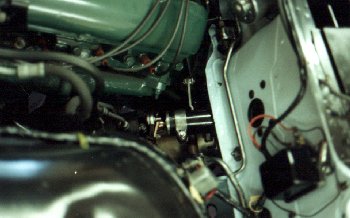 Here's a close-up of the driver's side firewall. It looks just like new.