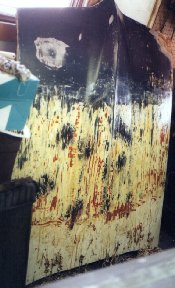 With the main body and chassis complete it was time to turn to the nose components. Here's the hood in the middle of being stripped. I just used cheap Airplane Paint Removed and a squeegy. It removes everything accept the original factor primer. The underside was sandblasted and the top factory primer was removed using an orbital sander.
---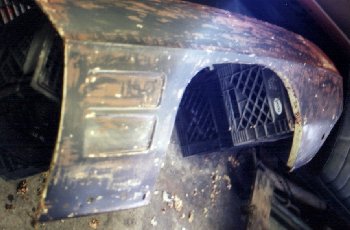 The front fenders were stripped in the same fashion. There is nothing like working on original rust free parts. When it comes to rusted front fenders it is always worth spending a couple hunderd dollars to replace them with rust free originals. I was lucky enough to have a car with rust free originals.
---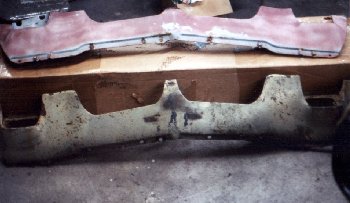 At some point the original lower valance panel was replaced. Only the outside was painted and the inside only had the factory preprimer. The panel was full of rust holes because the preprimer was never top-coated. Also, common with most lower valances, the panel was twisted and dented from years of running into curbs and such. Since there were no reproduction lower valance panels available for 1969 Firebirds I was forced to purchase a used one. I was lucky to find a good one from Camaro Specialities for $125. Here it is above the original one. All I had to do was strip it and fix a couple small dents.
---

Another thing that always goes on convertibles is the upper windshield moldings. Here's the originals next to a set of halfway descent reproductions from Classic Industries. A purest will note that in 1969 the moldings were frosted to reduce glare for oncoming traffic.
---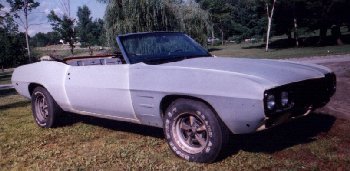 Here's the car with the nose installed. The headlight bezels and upper filler panel are painted off the car and installed later.
---
Original GM windshield washer assemblies are still available from the reproduction part suppliers. Here's the new one, with GM label, next to the original.