I've been searching for an original Panther Pink 1970 Challenger for quite a few years now. I setup my E-bay account to send me an e-mail whenever one was listed. For the most part, the e-mails I was getting was almost always for diecast model cars. Then one lucky morning I received an e-mail showing listings for 2 of them! They were virtually identical. One was in Pennsylvania. The other in Texas. The one in Texas was rusted out pretty bad and had the quarter panels cut out of it. The one in Pennsylvania was in an accident 25 years previously and was missing the entire nose. Living in Vermont, it was a pretty easy decission as to which car I was going to bid on. And bid on it I did.

So two weeks later I found myself traveling to PA with a rented truck and a borrowed trailer.

Here she is (pink cars are all she's), ready to take off the trailer and store in the shop. As it always seems to be the case with bright colored cars, it was repainted in a much tamer color.


---
The early ownership of the car is unknown. The title I recieved with the car stated that it was first titled in PA on 8/18/1976 and the person I bought the car from, Jim Faust, bought the car 5/13/1987. Jim tells me that the person he bought it from was a woman who lived in the Landsdale, PA area (near Philly).

It seems that there were a lot of Panther Pink Challengers in PA. A few years prior I went to PA and looked at a Panther Pink 70 Challenger 318 convertible that was on ebay. There was nothing left of the rear frame rails and every piece of sheetmetal needed to be repaired. I passed on the car and it eventually sold for $20K on ebay without any running gear ! Am I missing something ? Sure would like to know what happended to it. VIN: JH27G0B297706. Send me an email if you know about the convertible or my car.

As with many of the low-end mopars it seems likely that my car would have been turned into an R/T clone rather then being restored to its original stock 318-2bbl "plane-jane" state if I had not won the auction. In fact, the loser of the auction had the nerve to contact the Jim in an attempt to buy it out from under me after the auction closed. Luckily the Jim is honest.

This is what the car looked like when the Jim bought it in the mid-80's. From the pictures you can tell it still had its original vinyl top and original double whitewall tires on the right side.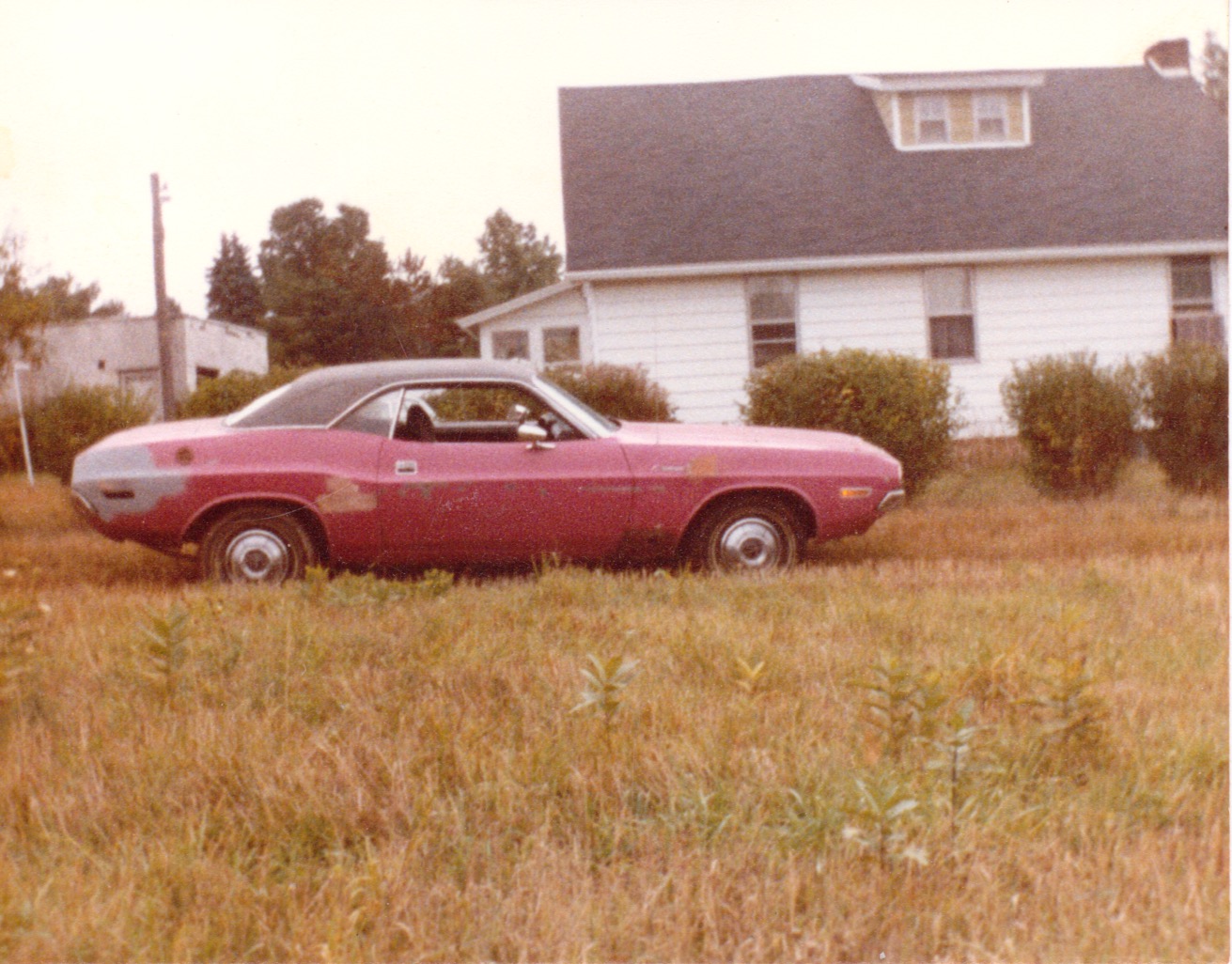 ---
The next set of pictures were taken after Jim made a bunch of repairs and changed the color. He changed the color, since he was in high school at the time and didn't want to drive a pink car to school.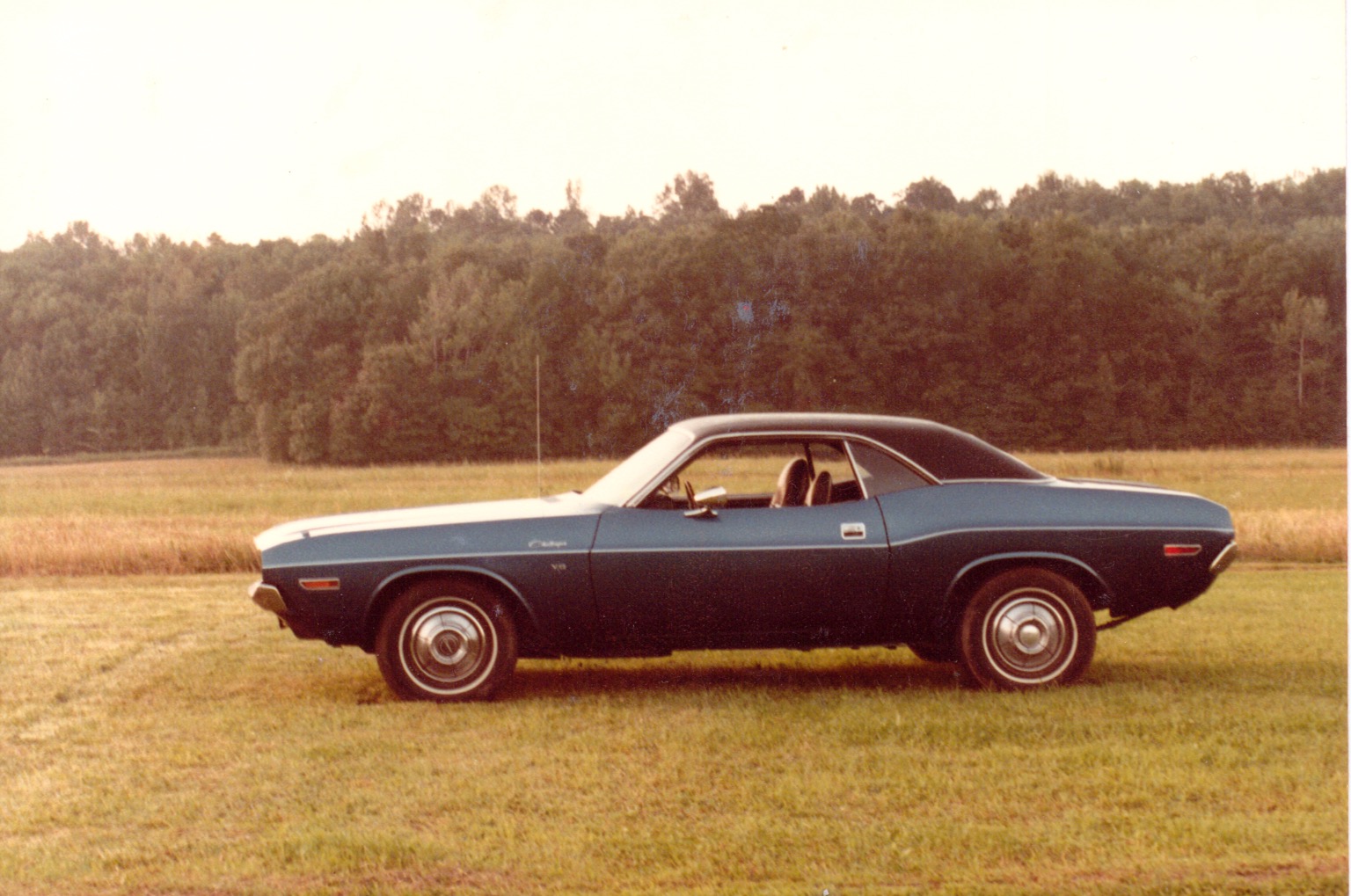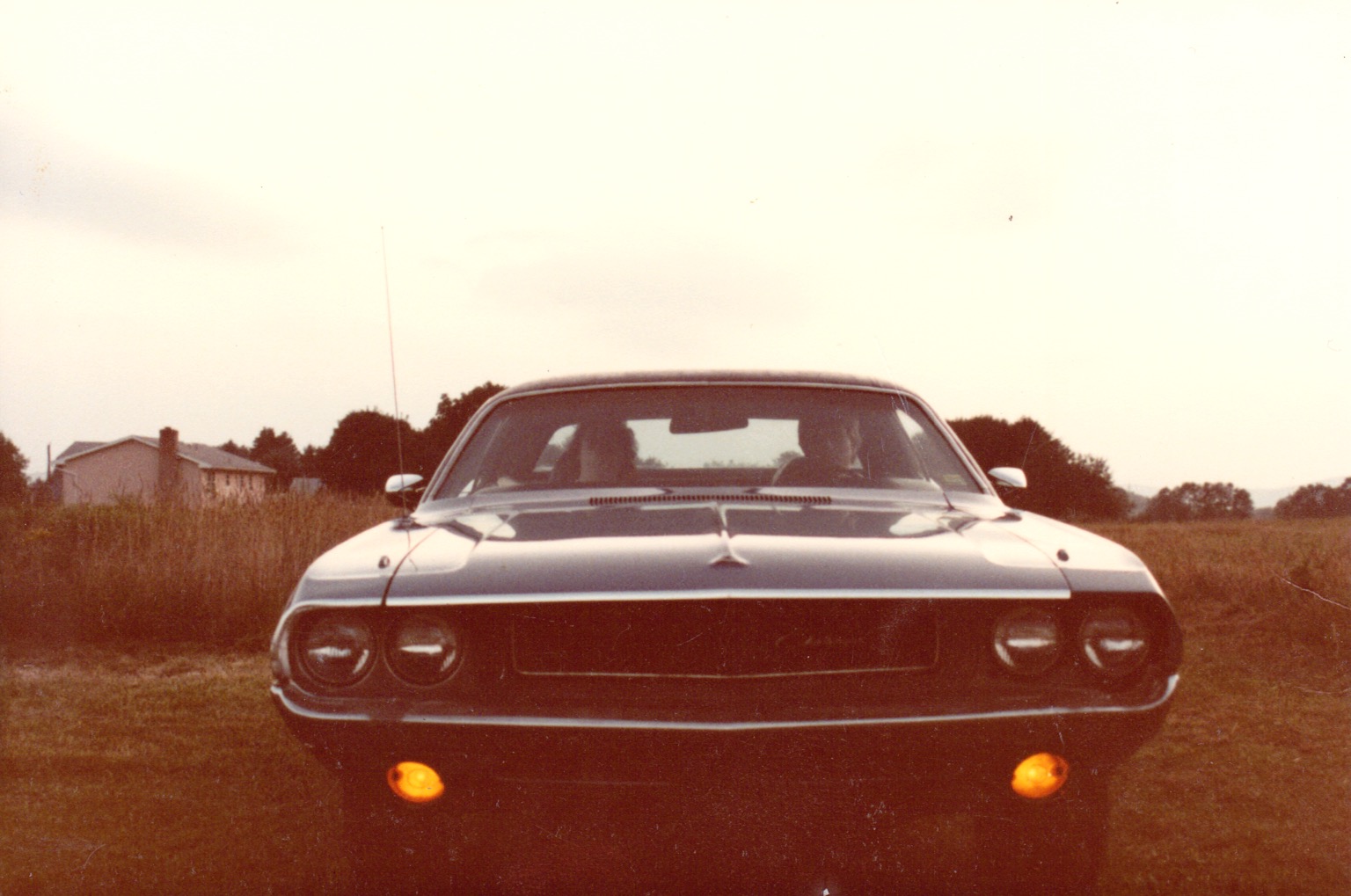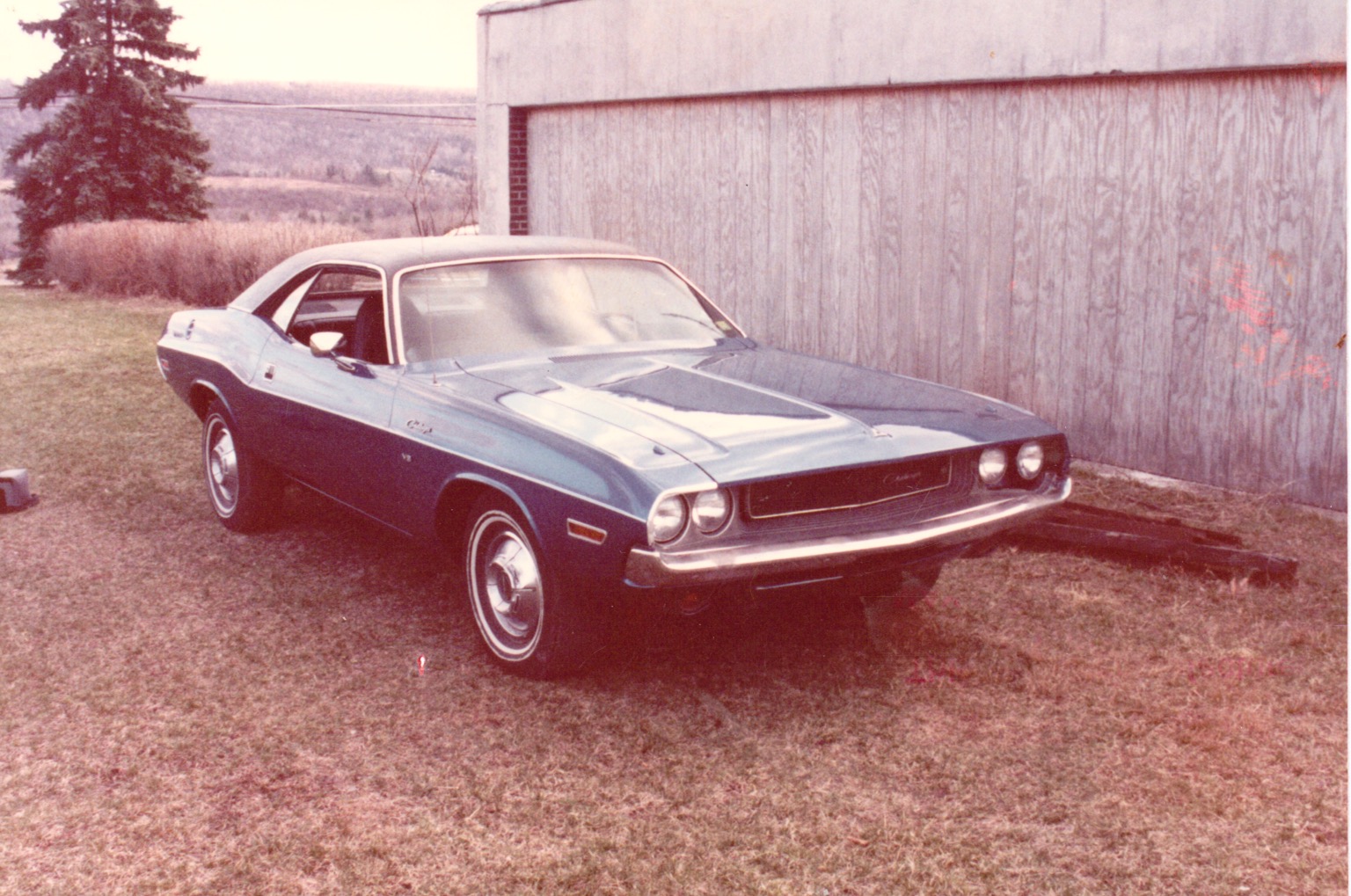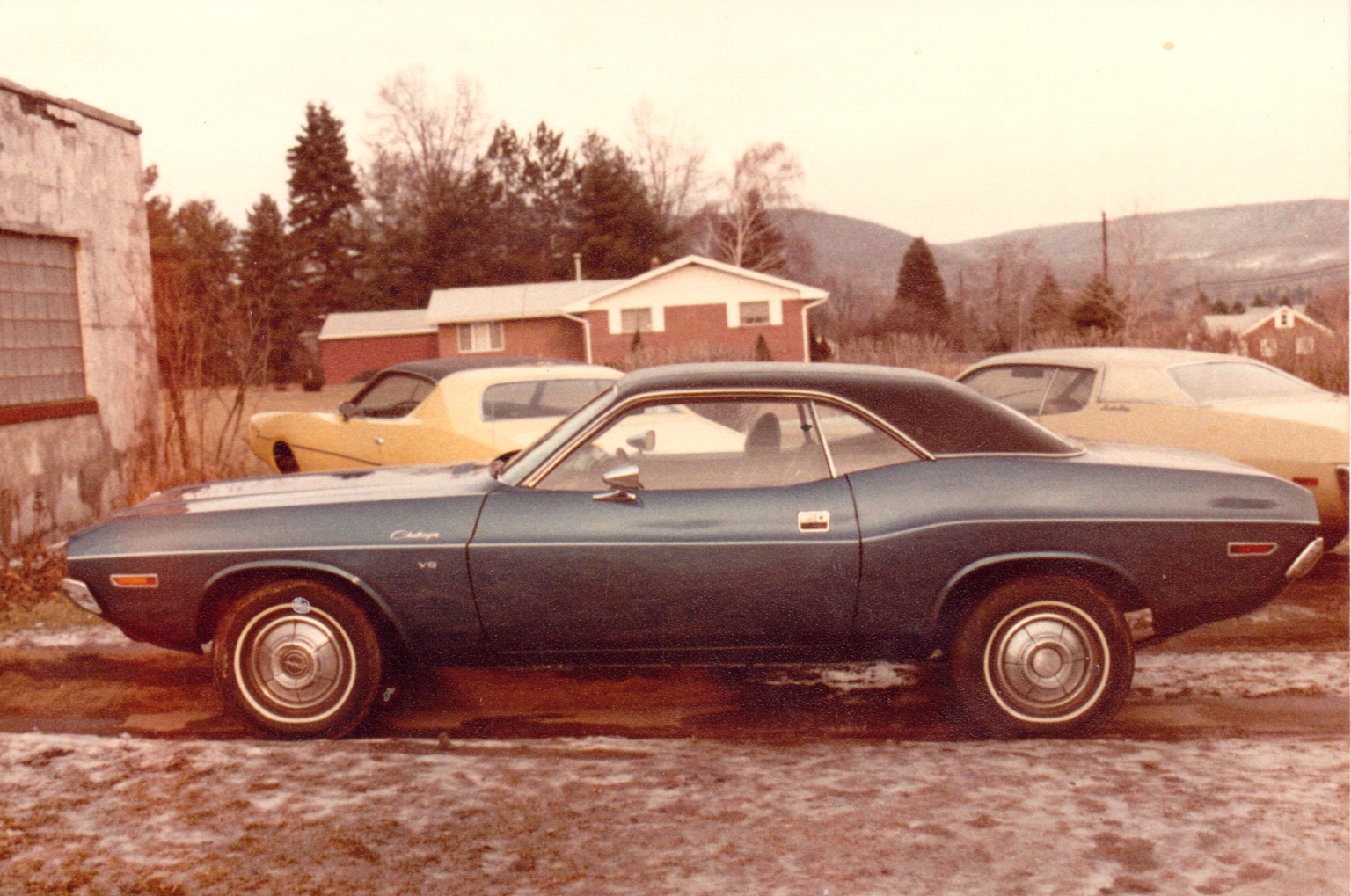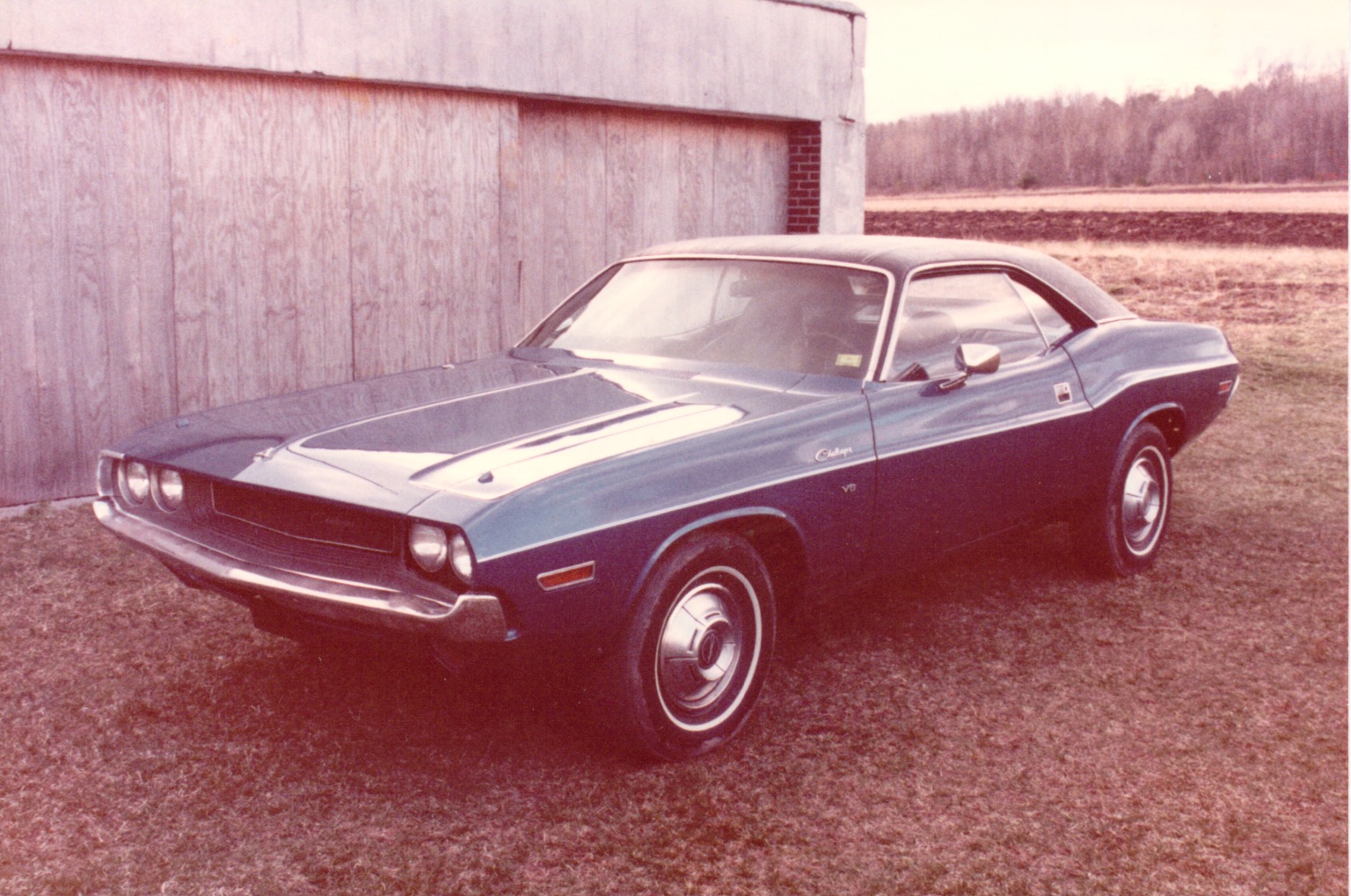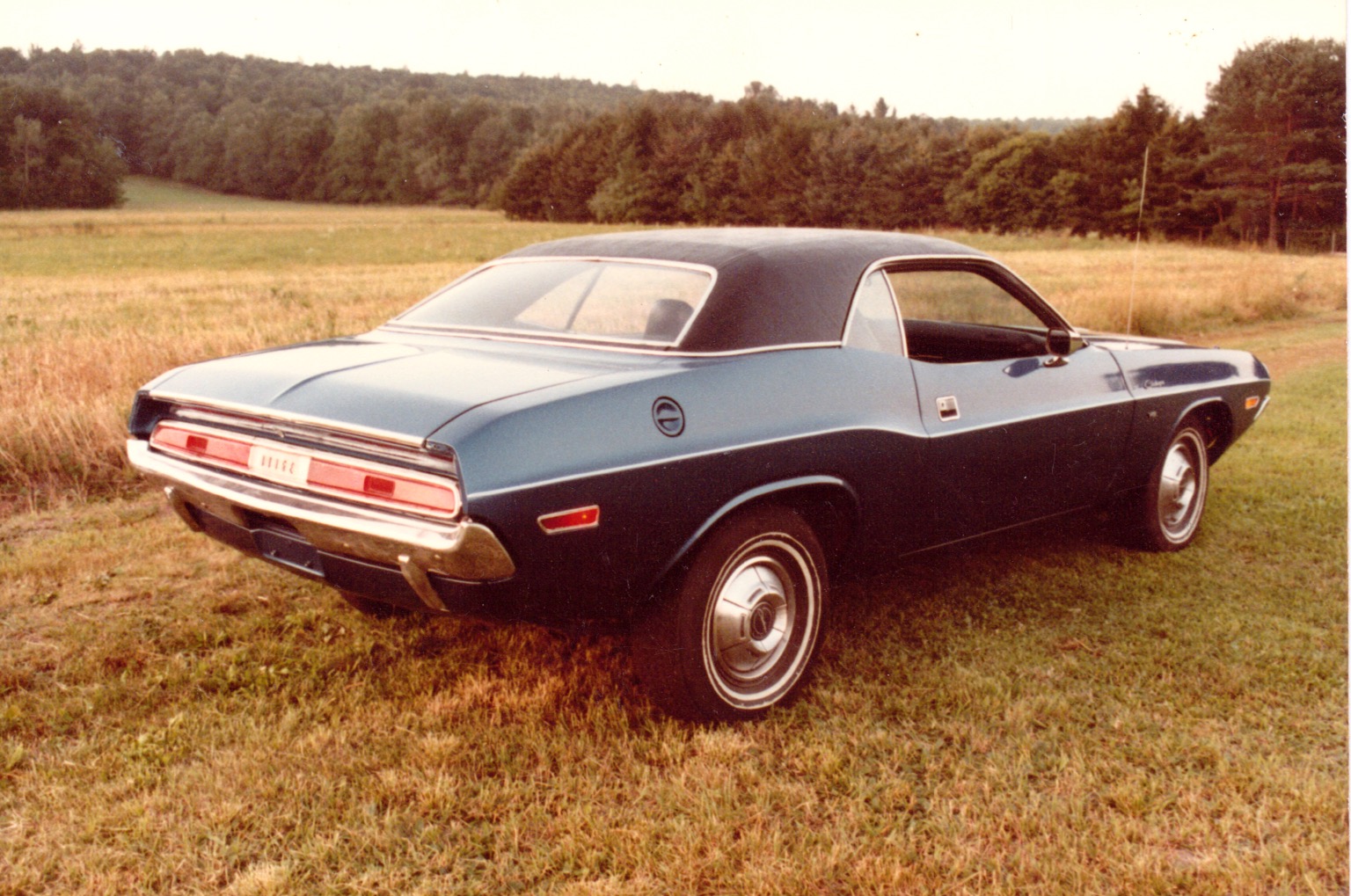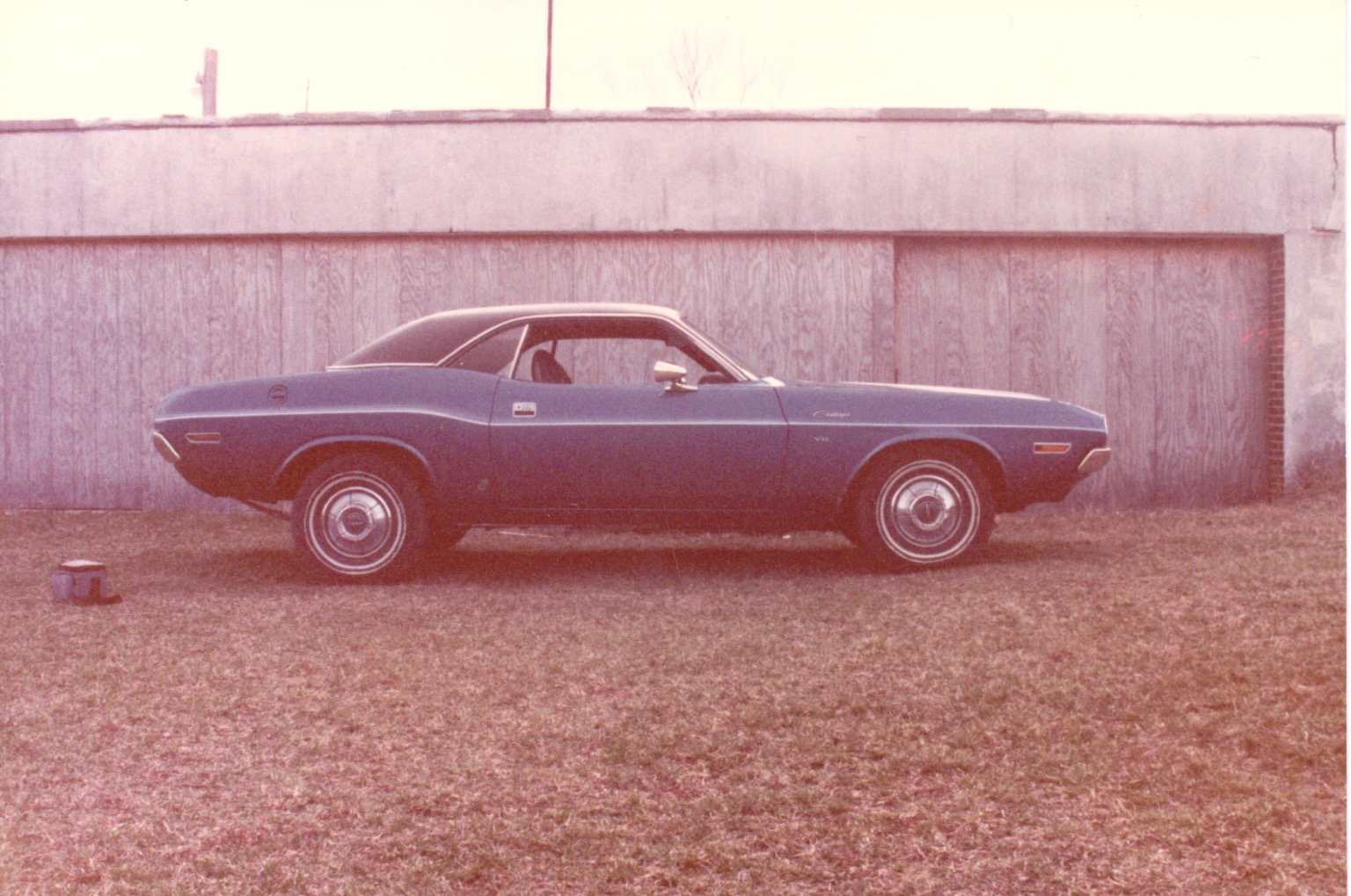 ---
It didn't last long. Jim let his brother borrow it one day and unlucky for the brother and the car, an old women pulled out in front of him and this is what happened to it: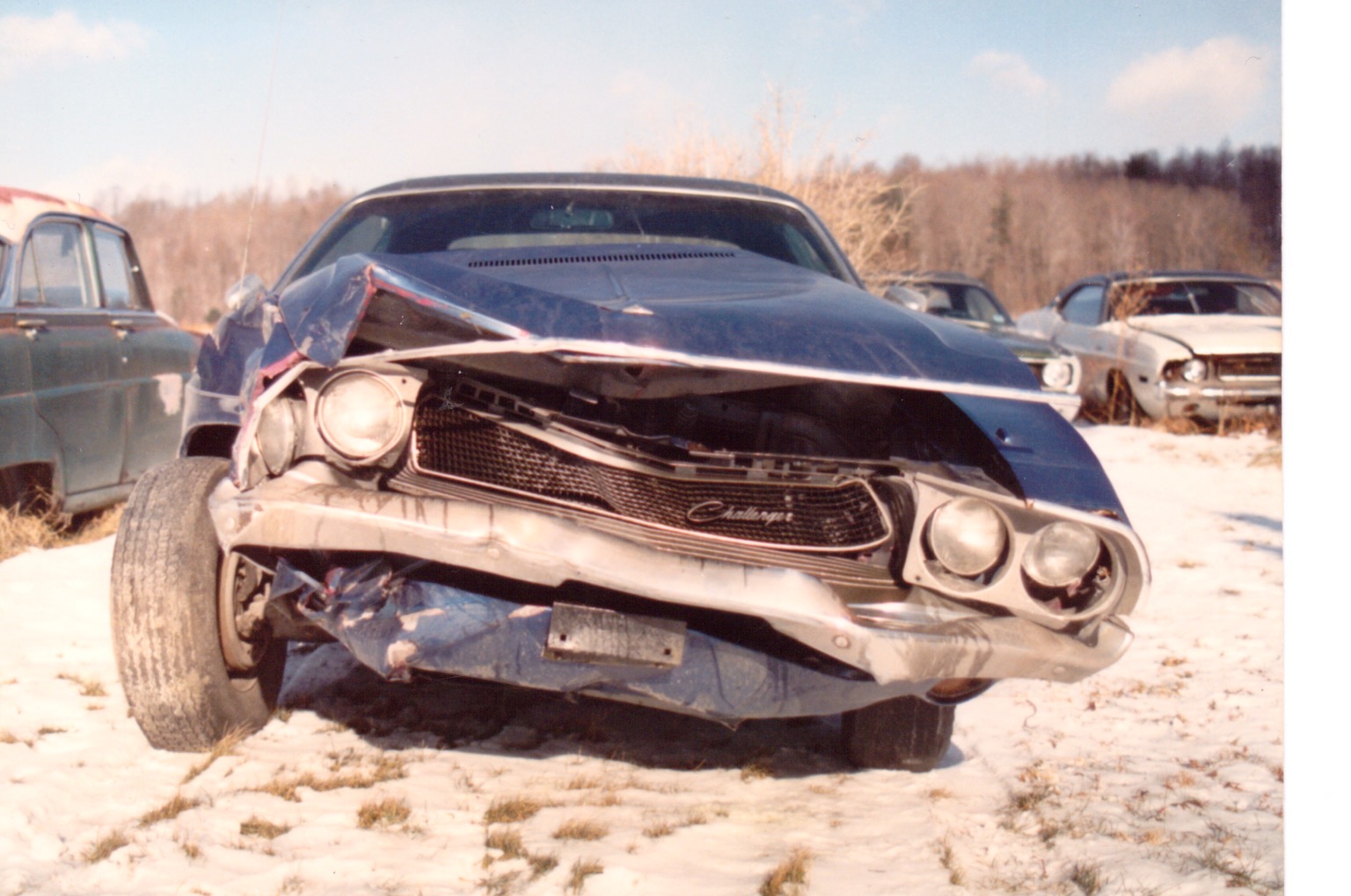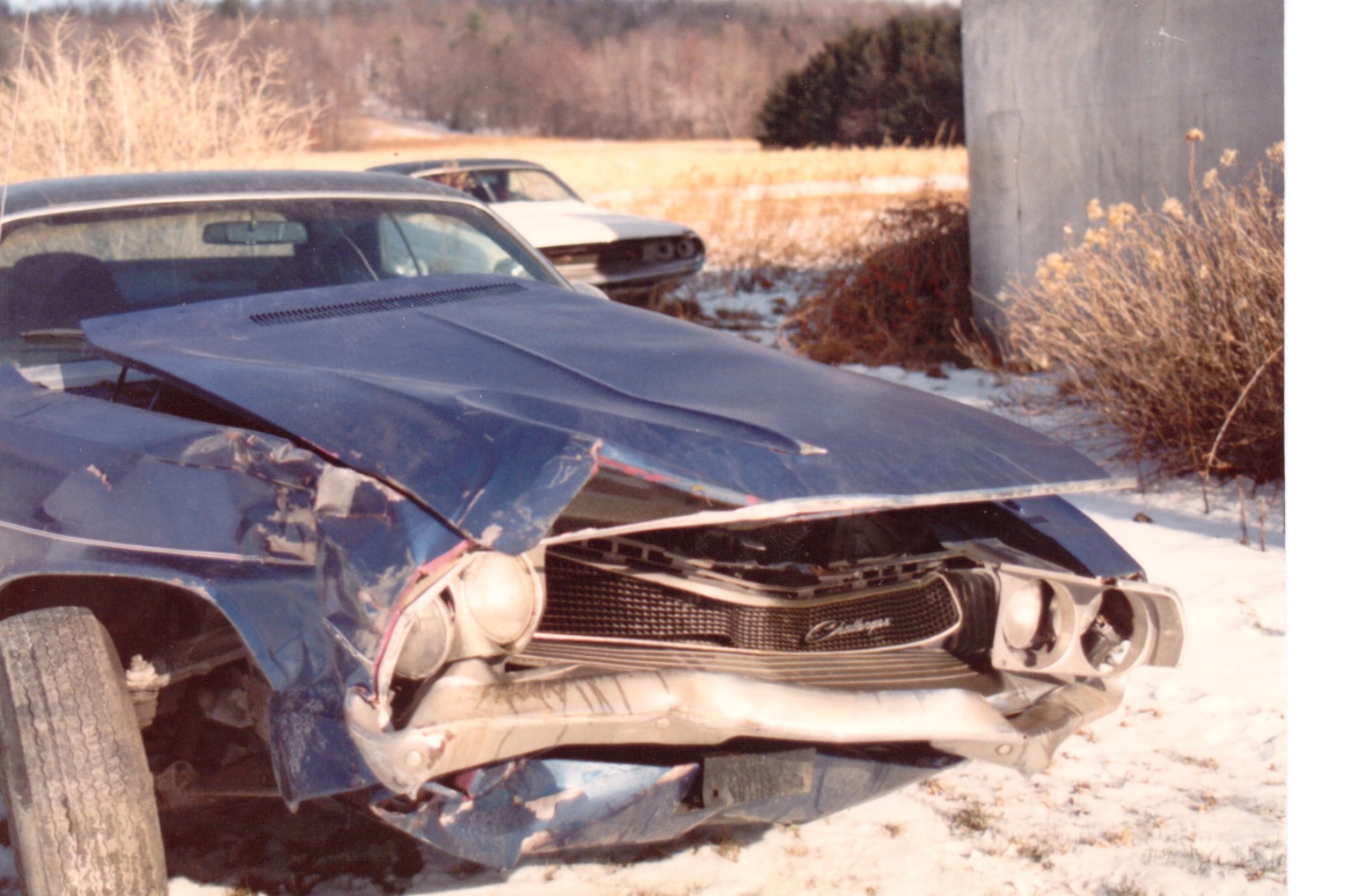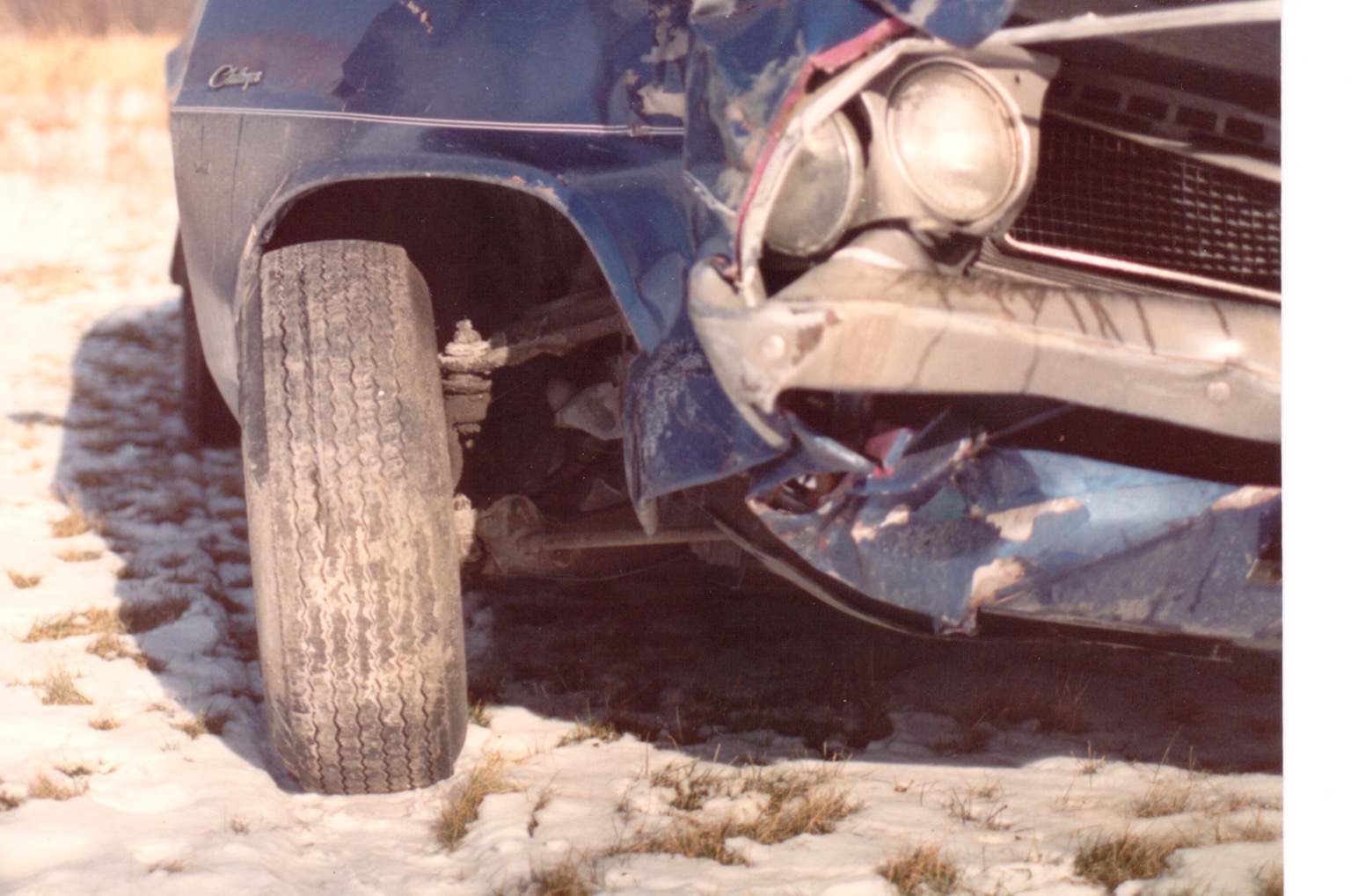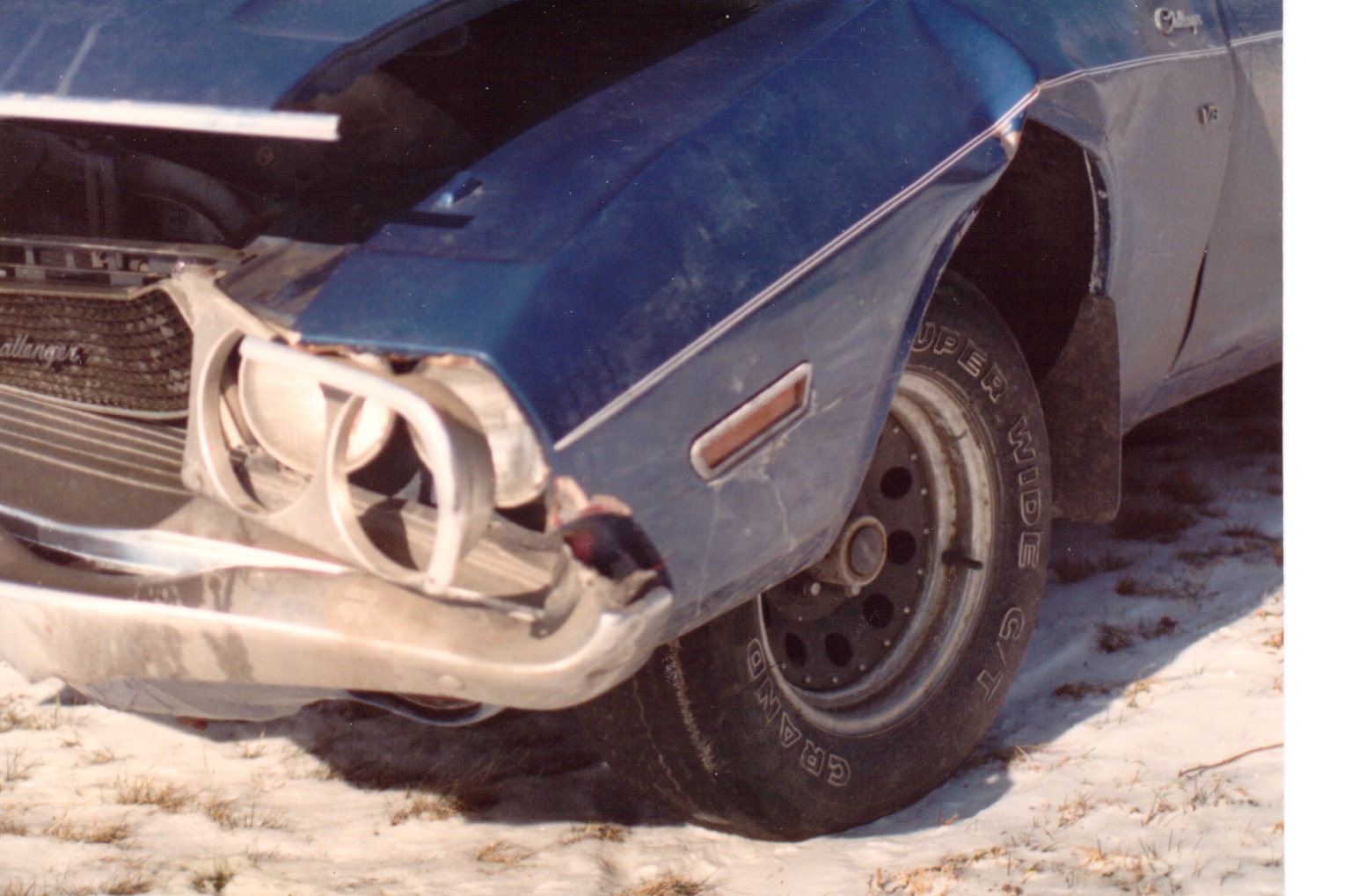 ---
Here are some of the auction pictures. There was no front end pieces that came with the car. What you see is what I bought. Jim had the structural damage professionally repaired right after the accident, but never went any further with the repairs.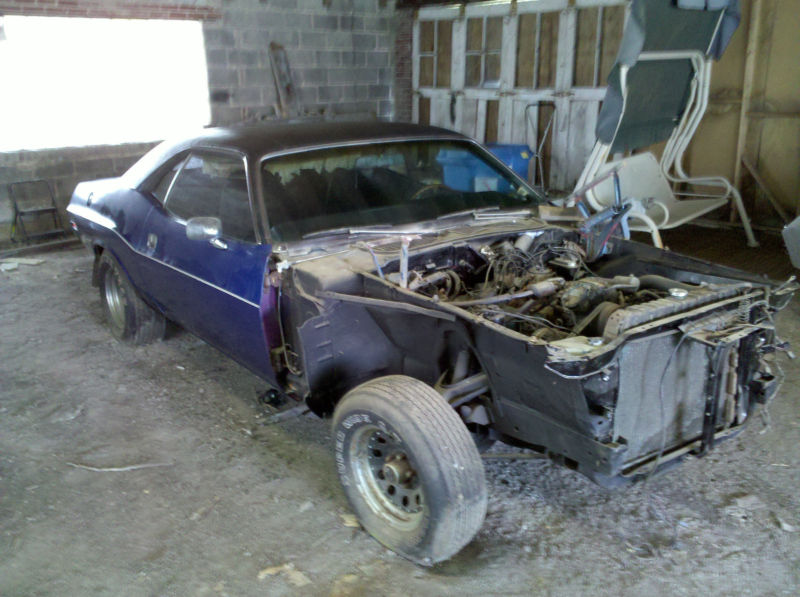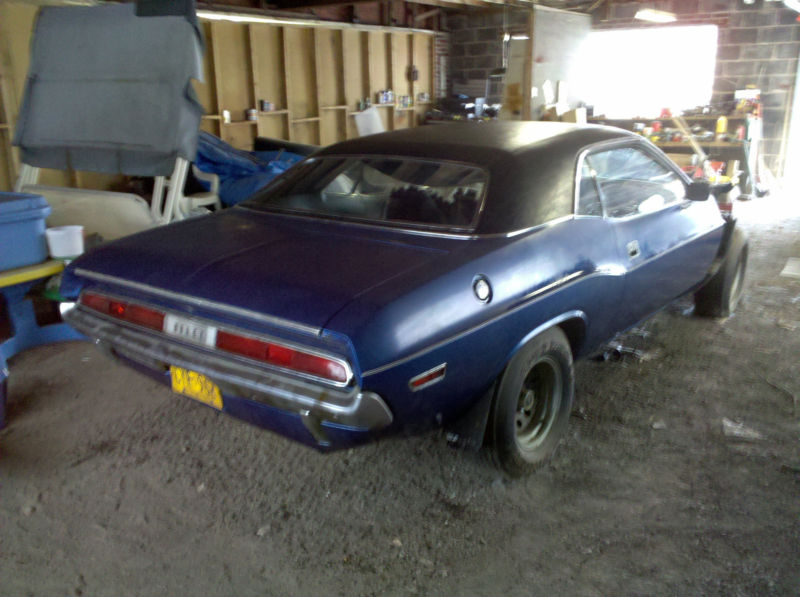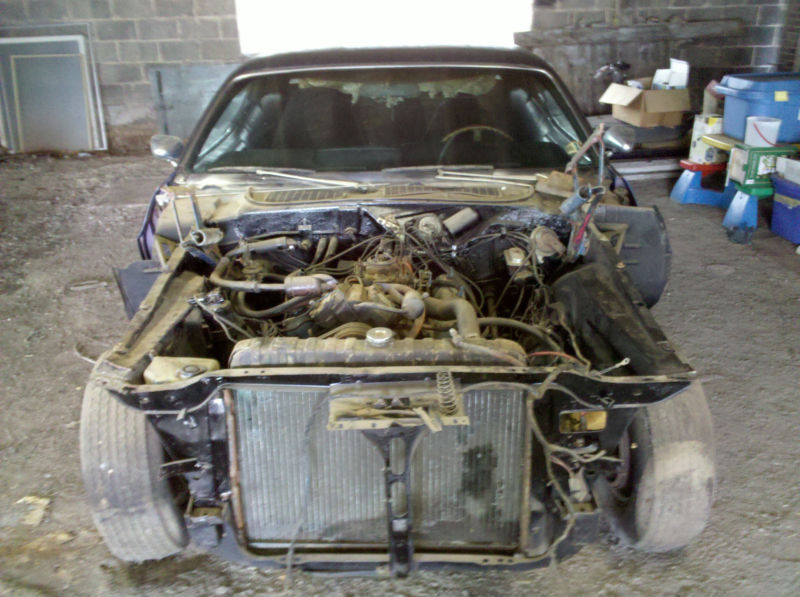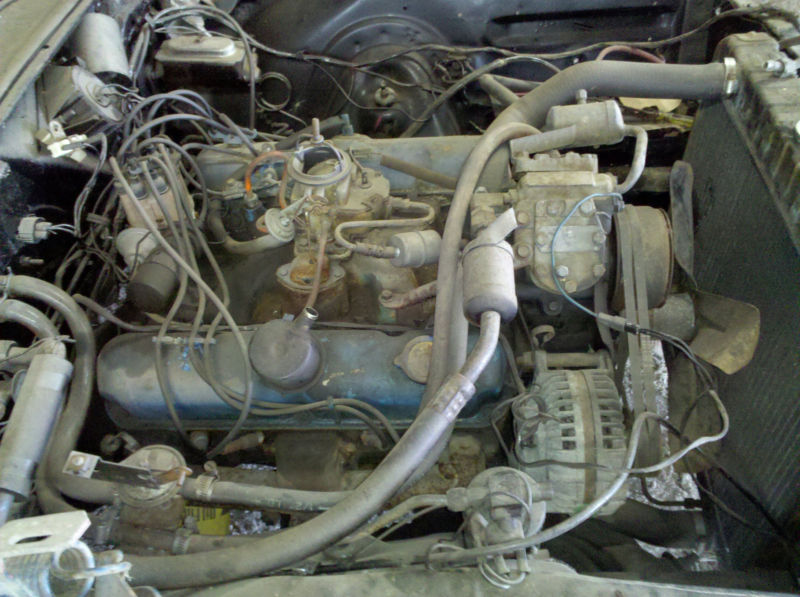 ---
One of the first things I checked on the car was originality. What I am describing here is applicable to any Mopar you might want to purchase. The series of pictures below shows that the car is original. The dash VIN Tag (very bad idea by Chrysler to rivet it to the dash pad by the way) and the door tag show the same VIN number. The engine block and the transmission are both stamped with a partial VIN which agrees with the VIN tag. The back side of the radiator support and the lip in the upper cowl panel are also stamped with the same partial VIN which also agrees with the VIN tag. Assuming that these items have not been "relocated" from another vehicle or reproduced.... the vehicle is considered to be an original numbers matching car.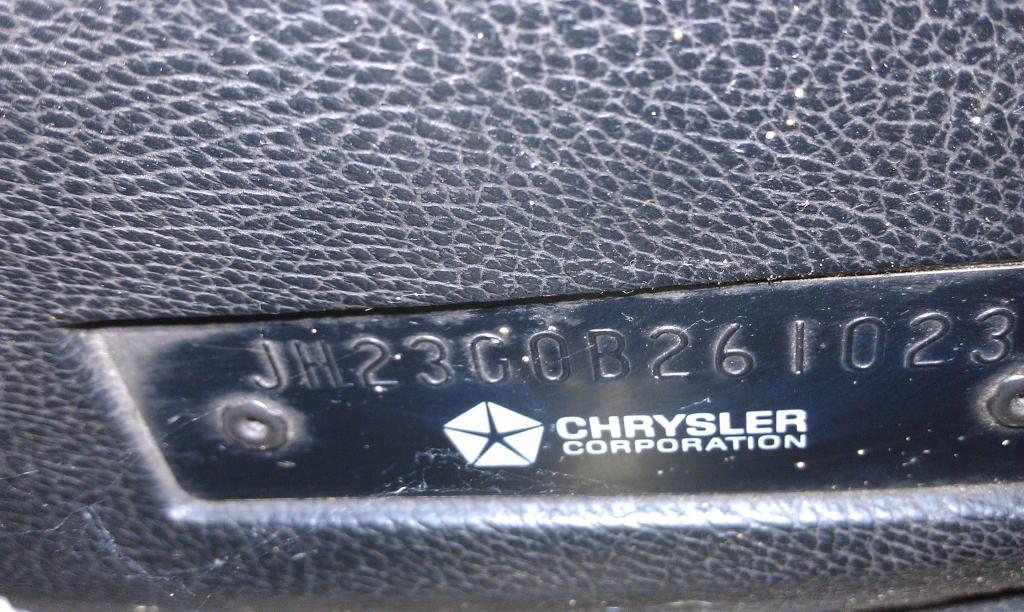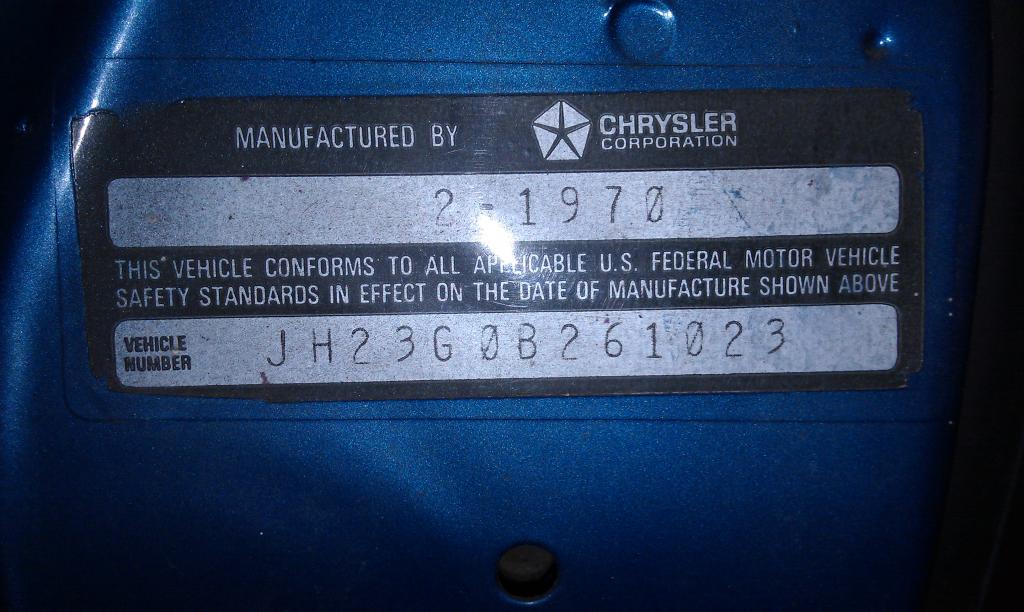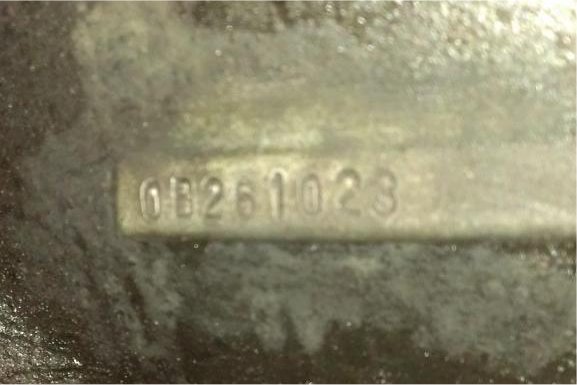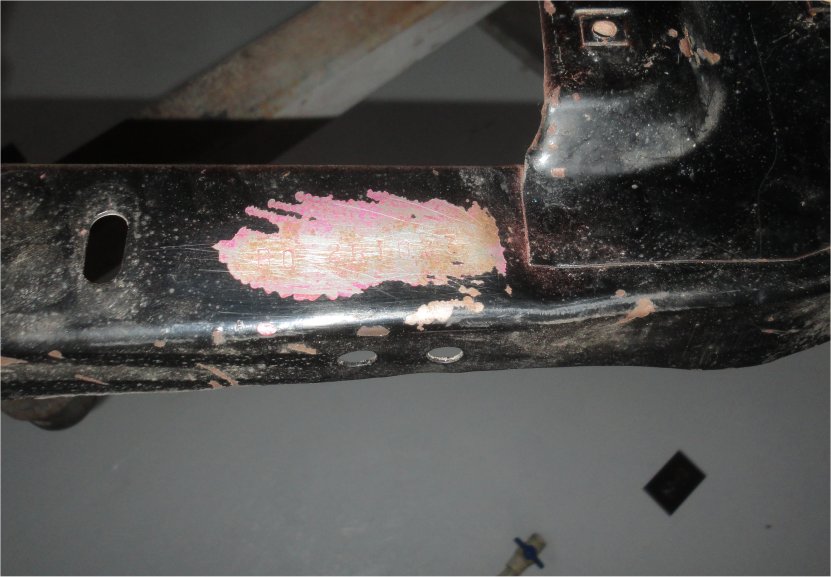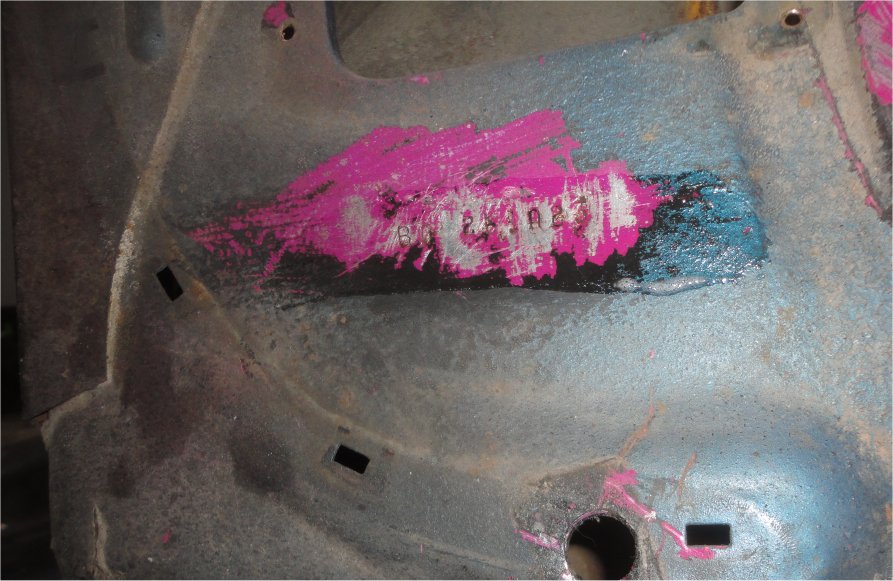 ---
The original Fender Tag (or Build Tag if you prefer) was still screwed to the left inner fender. Fender tags are often lost or stolen. I would not have bought the car if it did not have the tag. When properly decoded, it lists information about how a car was built and what options it came with. These tags are often reproduced, so you have to be careful when looking at a high dollar car.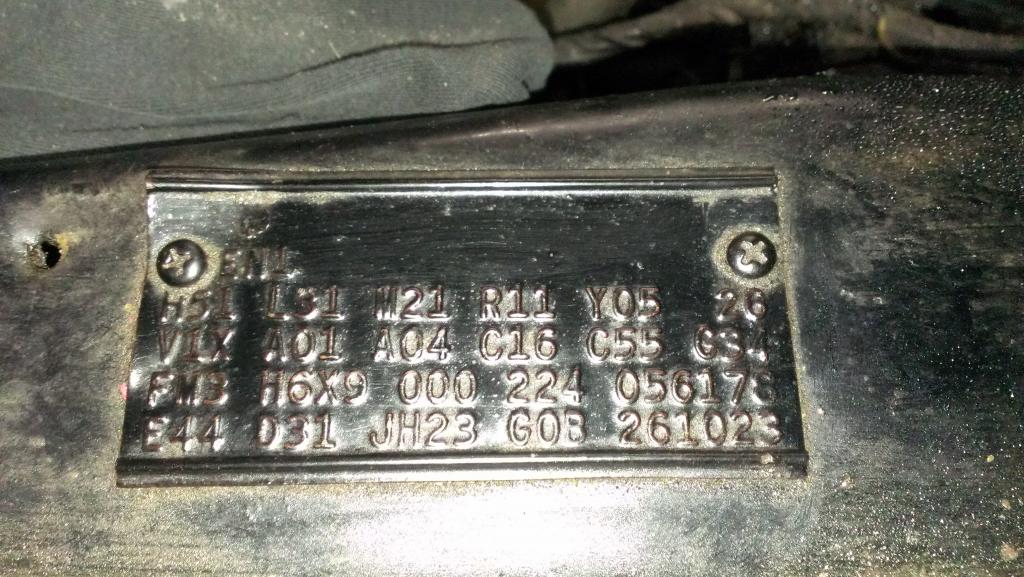 The following is a break down of the fender tag codes:
261023 = Sequence number (261,023 the 1970 car produced at plant, last 6 digits in the vin)
G0B = 318-2bbl Engine, 1970 Model Year, Hamtramck MI Assembly Plant (5th-7th digits of the vin)
JH23 = Dodge Challenger, 2 Door Hardtop (1st-4th digits of the vin)
D31 = 904 3spd Automatic Transmission
E44 = 318-2bbl Engine
056178 = Order Number
224 = Scheduled Build Date of February 24, 1970 (Note: One of the very first Challengers in this color)
000 = Upper Door Frame Color (N/A for Challenger)
H6X9 = High, Vinyl Bucket Seats, Black
FM3 = Panther Pink body color
G34 = Remote LH Outside Mirror (Painted)
C55 = Bucket Seats
C16 = Console
A04 = Basic Radio
A01 = Light Package (courtesy)
V1X = Black Full Vinyl Top
Y05 = Built for US
R11 = AM Radio (2 watts)
M21 = Roof Drip Rail Moldings
L31 = Fender Mounted Turn Signals
H51 = Single Air Conditioning w/Heater
26 = 26" Radiator
EN1 = End Of Codes Assembly Line 1
With the exception of the radio and front fenders with turn signal indicators, all of the items listed were still with the car. The mirror had been replaced, but the remote cable and bezel were still attached to the door. Since the front fenders were missing, it was good to know that the car came with fender mounted turn signals.


---
Another item that adds value to the car and tells the complete story as to what components were used to assemble the car, is the factory broadcast sheet (build sheet). Some cars actually came with several of them. I found 3 inside this car. One was taped to the glovebox liner (easy to see by looking under the dash), one was inside the right front seat back and one was inside the rear seat back. There probably was another one behind the driver's seat, but at some point the original seat was replaced. Other places to find broadcast sheet would be under the carpets and under the package tray.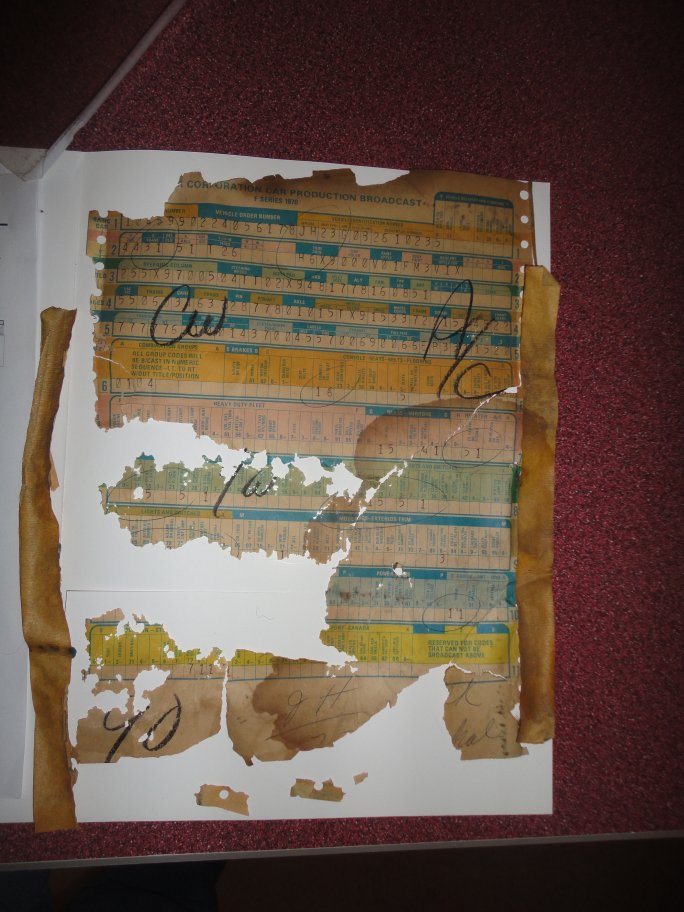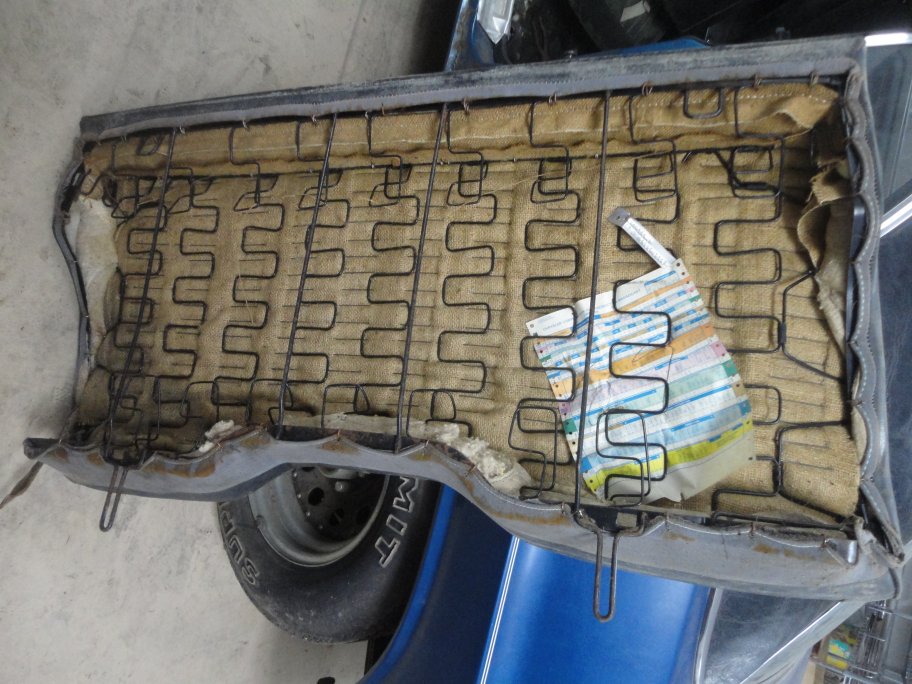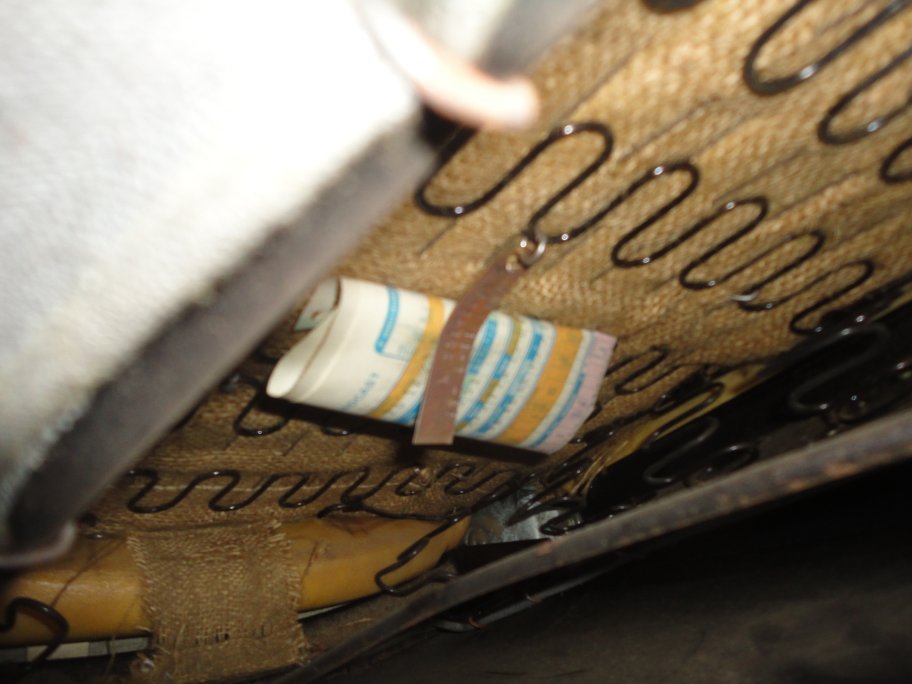 As major components/subassemblies of a car (e.g. dash, seats, engine, etc..) were built, a broadcast sheet was printed and was used to instruct the factory worker as what to assemble. Often the broadcast sheet accompanied the component to the final assembly line so that the correct assembly would be installed on the intended car. All of the printed broadcast sheets for a given car would be 100% identical except for the last 4 digits on line 5, which represent the time of day that it was printed. Each broadcast sheet would receive different markings on them during the assembly process. As you can see from the first photo above (which came from the dash), items refering to the dash construction (color, A/C, radio type, gauge type) were circled and notes were written.

To decode your build sheet you either need to pay someone or you can get your hands on a restoration manual from the International Chrysler Collector Authority website. It will cost you a lot, but it is well worth the purchase when restoring a mopar of value. I am not exaggerating in the slightest. I wish that all resto manuals were like this.
---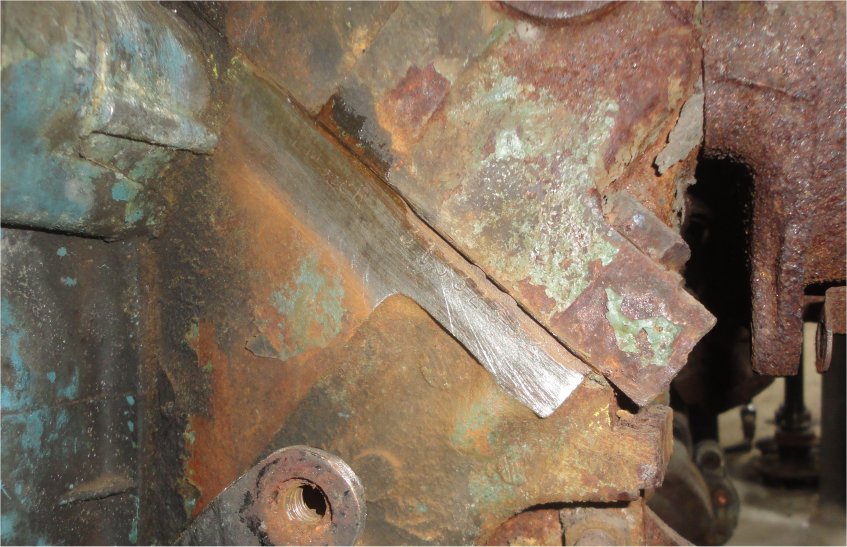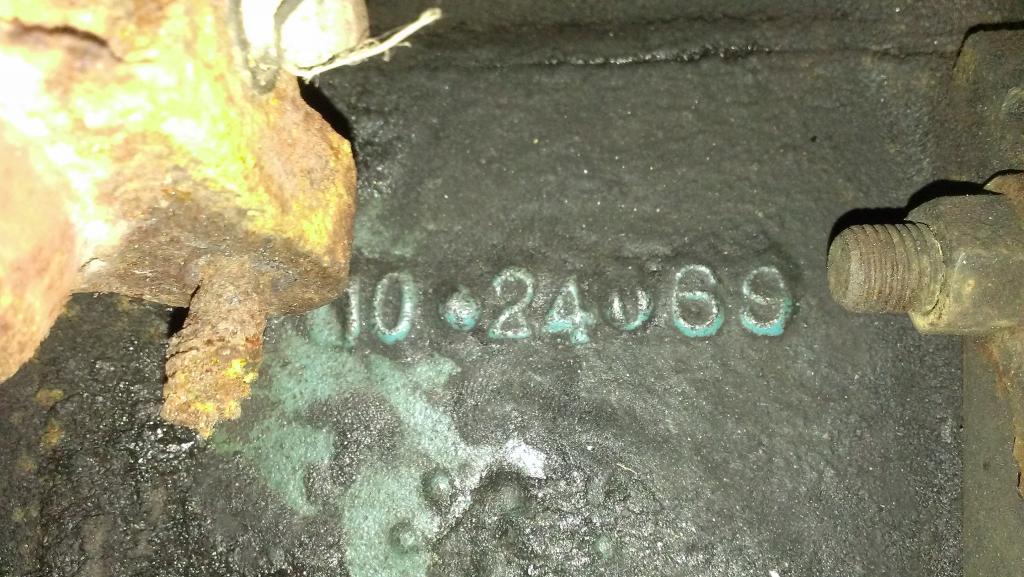 ---
The pictures above are of the stamping on the left front side of the engine and the block casting date. Some may mistaken the stamping for the VIN, but it really pertians to the engine build information. The stamping reads PM318R 31332352. This translates as follows:
PM = Mound Road assembly plant
318 = engine displacement
R = Regular Fuel
3133 = February 24, 1970 assembly date using a 10,000 day calender. This agrees with the fender tag.
2352 = engine sequence number.
Even with a February 24, 1970 assembly date, it is interesting to note that the cast date of the block is 10/24/1969. Four months seems like a long time between a cast date and an assembly date. I am used to seeing about a month on other cars.
---
FM3 PAINT CODE BACKGROUND:

Moulin Rouge/Panther Pink (color code FM3) is one of 7 High-Impact Paint Colors (HIP Colors) that were available from Chrysler for the 1970 model year. Moulin Rouge/Panther Pink along with Sassy Grass/Green-Go were introduced in January 1970, usually refered to as "Spring Time Colors".

The first car thought to be produced in this color was a 1970 Challenger R/T Convertible, which was produced for the 1970 Chicago Auto Show (Feb 21 - March 1, 1970). The show car was loaded with options which included a 440 Six-Pack engine, 4-spd manual trans and a fluorescent magenta longitudal stripe. The car was produced on Feb 11, 1970 and did not have a FM3 paint code, but rather a 999 special order paint code. Here it is back in 1970 and here is its fender tag.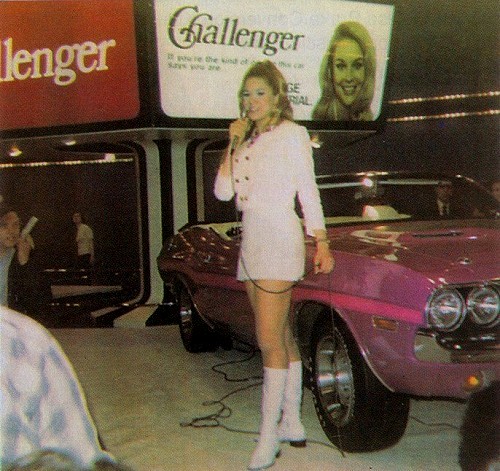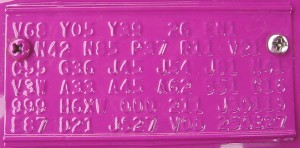 Pictures courtesy of www.pantherpink.com

When the new colors were introduced, this was the only brochure that dealers received: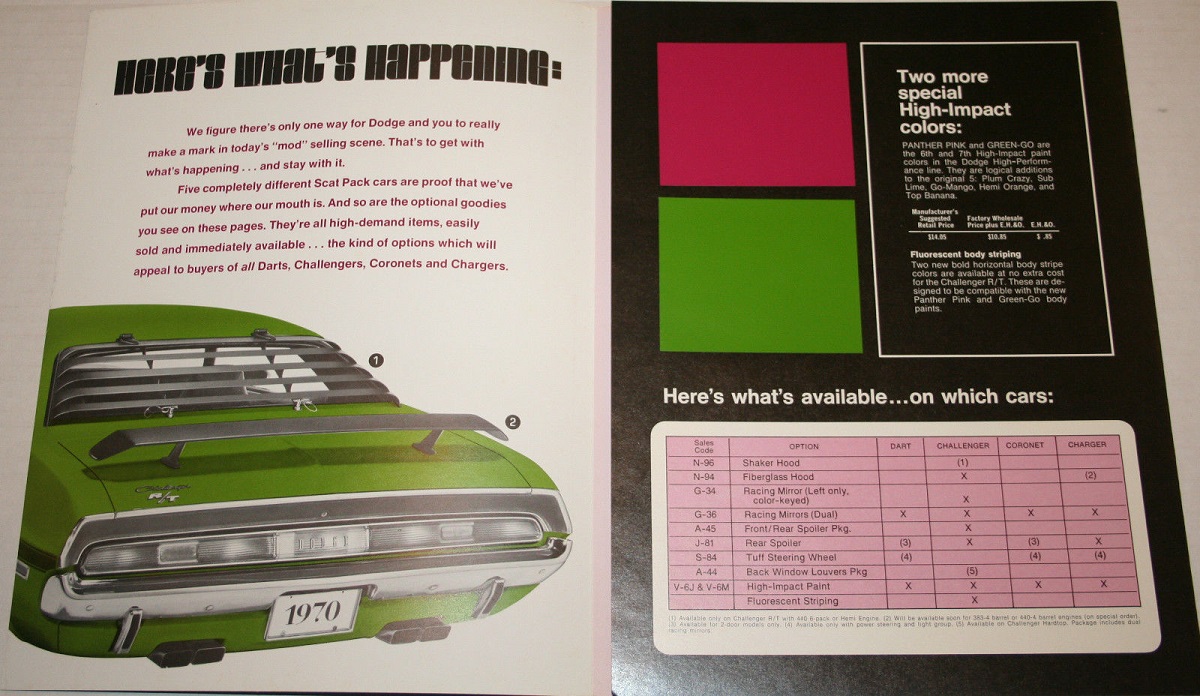 This is the only advertisment that appeared in magazines showing a car in Moulin Rouge/Panther Pink. Sassy Grass/Green-Go cars did not appear in adverts.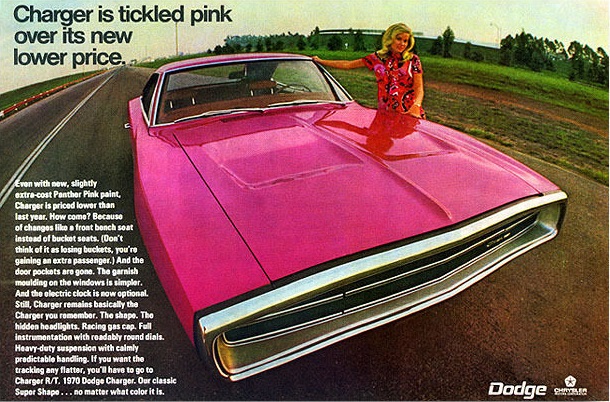 ---
So, how many cars were produced in this color? Well, there is no clear answer to that. Infact there is no clear answer to how many cars were produced by Chrysler with any particular option or combination of options. That is because Chrysler only kept track of single options by percentage of total production. So when you hear some guy say, their car is 1 of 28 with a 440 or whatever. That's BS.

Here are the actual percentages of High-Impact Colors produced for the 1970 model year (for the US only). You can see that 0.1% of all Challenger R/T's were Panther Pink. That's approximately 18 cars. Since 0.1% was a rounded figure, there could have been 0.05% - 0.14% produced in that color or 11 - 25 cars. Still pretty rare though.




For non-R/Ts (like my car) there were somewhere between 255 and 299 produced. However, that figure included T/A Challengers. As of July 2017 there are 91 Panther Pink T/A's documented in the T/A registry. The registry contains roughly half of the T/A's produced. Therefore it is safe to say that less than 200 coupes like mine were produced in Panther Pink.

Here's a more accurate breakdown of the Panther Pink cars for the curious.

| | | | |
| --- | --- | --- | --- |
| Model | Total Produced | % Panther Pink Cars | Total Panther Pink |
| Barracuda | 24,743 | 0.4% | 99 +/-10 |
| Challenger | 55,270 | 0.5% | 277 +/-22 |
| Challenger R/T | 18,364 | 0.1% | 18 +/-7 |
| Charger 500 | 27,236 | 0.2% | 54 +/-11 |
| Charger R/T | 9,370 | 0.2% | 19 +/-4 |
| Cuda | 17,258 | 0.9% | 155 +/-7 |
| Dart 340 | 10,382 | 0.6% | 62 +/-4 |
| Dart Swinger | 130,872 | 0.2% | 262 +/-52 |
| Duster 340 | 21,799 | 1.9% | 415 +/-9 |
| Duster Coupe | 173,638 | 0.7% | 1,216 +/-69 |
| Gran Coupe | 7,867 | 0.1% | 8 +/-3 |
| GTX | 7,141 | 0.3% | 22 +/-3 |
| Road Runner | 38,811 | 0.3% | 117 +/-16 |
| Super Bee | 10,507 | 0.1% | 11 +/-4 |


again, these are based on figures for the US Only.